Should Jesuit's Mission Statement be Non-Gendered?
Jesuit's mission statement reads "men and women for others," but a few Catholic schools have made the shift to non-gendered mission statements such as "people for others". In light of other Catholic schools updating their mission statements as the times change, is it time for Jesuit to do the same in order to serve students more effectively through language?
Catholic schools including St. Andrew Nativity in Oregon, Georgetown University in D.C., and Loyola University Chicago have all changed their mission statements to "people for others," according to their respective mission pages. 
For example, Cristo Rey New York High School has a non-gendered mission statement reading, "Our ultimate goal is that our students will graduate from college and become professionals for others."
Similarly, Seattle Preparatory School has a non-gendered mission that reads: " Our mission is to form discerning, transformational leaders who are intellectually competent, spiritually alive, open to growth, loving and committed to justice."
While many Jesuit high schools across the United States are exclusively men or women, the majority of co-ed schools continue with "men and women for others."
"Roughly three-quarters of Americans ages 18 to 29 (73%) say they have heard about people preferring nonbinary pronouns," according to a 2019 Pew Research study. 
Having a broader discussion of the language of the mission statement is important to the students I spoke to and "people for others" is viewed as more inclusive than "men and women for others."
"For the past couple of years society has started to accept nonbinary and non-gender-conforming people, so choosing to keep the statement as "men and women" is ignorant," junior Elliot Hunt said. 
Jesuit's President, Tom Arndorfer hasn't heard news of traditional Jesuit schools in the United States changing their mission statements to a more inclusive title but mentioned that a brief discussion of the issue took place in a Jesuits West meeting recently.
"I asked Father Bob Reiser, Executive Director of the Jesuit Schools Network if he was aware of any traditional Jesuit high schools that have changed their mission statement, and he said no," Arndorfer said. "Different schools have different perspectives on that."
Mr. Arndorfer is open to having a broader conversation about the mission statement.
"Pedro Arrupe's original statement was 'men for others' when Jesuit schools were primarily all-male. I think it was important to change it to include women, Arndorfer said.
Junior and co-leader of Black Student Union Imani Shorts provided her insight on the issue. 
"I think it should be "people for others" because it encompasses the whole Jesuit community," Shorts said. 
"I think we should have the discussion about a more inclusive perspective as well," Arndorfer said. "I am happy to begin that discernment with our Board of Trustees. As a board member here and at the Jesuit Schools Network, I will make sure we are having a broader conversation about that topic."
Mr. Arndorfer clarified that a possible change to a mission statement would have to undergo a similar process as the mascot. The changing of a mission statement would include approval from many different entities, including the Jesuits and the Archdiocese. 
"To change our bylaws here, it would have to go through the Board of Trustees at a minimum, and most likely you would have to have a conversation with the Society of Jesus and a conversation with the Archdiocese of Portland," Arndorfer said.
As language in society shifts, having more inclusive language to encompass a community is important to students. 
"I definitely think "people for others" would be more inclusive," sophomore Naomi Shawel said.  
In 2019,  Pew Research reported that 1 in 5 adults know someone who uses gender-neutral pronouns, and even more young adults know someone using gender neutral pronouns. 
Students that I talked to are all echoing a similar message: that more inclusion in the mission statement is needed.  
"We want the Jesuit community to be as inclusive as possible," Mr. Arndorfer said. "We want you and your 1,277 other classmates to have an incredible transformational experience."
About the Contributor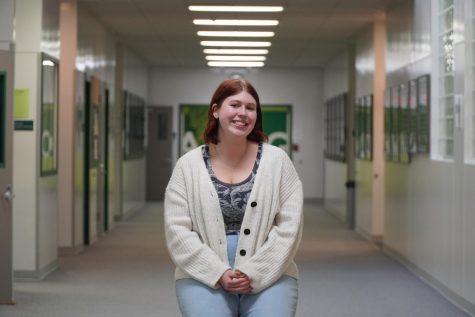 Allie Ruden, Editor in Chief
Allie Ruden is a senior at Jesuit High School and a second-year journalism student. Allie was born in Portland, Oregon, and is an only child. She has a labradoodle named Daisy who loves to nap and sunbathe.  In Allie's free time she loves to read, cook, and listen to all kinds of music. She loves to explore Portland with her friends. Her favorite places to eat in Portland are Bamboo Sushi, JoLa Cafe, and Grassa (highly recommended). Allie enjoys going to the beach, especially Manzanita and Lincoln City, and traveling all around Bend.  She loves writing and her favorite subjects in school are Journalism, English, and Spanish. Allie is interested in writing articles about music, pop culture, and the students and issues of the Jesuit community. She is excited to be able to write about what she is passionate about and delve into issues important to her. Allie is thrilled to be writing for
The Jesuit Chronicle
this year and is hoping to meet some new faces!