Jesuit to Add New "Clubhouse" to Campus
Next year, Jesuit will expand its campus and add new facilities for educational and athletic use in the Valley Plaza property adjacent to the baseball field. Tentatively labeled "The Clubhouse," the former Valley Theater will be converted into a multi-use space with planned features including batting cages and small auditorium style classrooms. 
Originally constructed around 1960, the 14,000 square foot structure operated as a three-screen movie theater for decades. After the theater closed its doors in 2018, it changed ownership and was to be converted into a Virtual Reality entertainment business, under the name "VR Tech Arena." However, plans fell through and the conversion was never completed. 
Currently, Jesuit owns the entire Valley Plaza property, which it purchased for about $19 million in October 2013. This property encompasses all of the businesses and structures to the east of the main campus, including Pizza Schmizza, Starbucks, and a large office complex near the center of the property.
As it currently stands, the building is a mix of half-finished VR infrastructure left behind by the previous tenant, and two smaller screening rooms that are still largely intact. The main theater's tiered seating was removed and a new, flat, floor was constructed. 
The roughly 6,500 square foot main room will feature batting cages attached to the ceiling, which will be able to lower down to floor level when needed. Additionally, the room will function as a multi-use space for various school-related necessities. 
Overseeing the transformation process of Valley is Treasurer Mr. Ken Foley. 
"This room could be used for (various) things, like events, tests, or dances," Foley said. 
Two smaller screen rooms lay adjacent to the main room, each featuring a seating capacity of about 100 and 80 people, respectively. According to Foley, these will function as small, auditorium-style classrooms that are reminiscent of college lecture hall
ls. The tiered floor and screen at the front of the room will remain, but Jesuit will replace all seating, as well as raise the ceiling. 
These rooms could be scheduled for athletic uses such as football film sessions, or faculty events, as well as regular day-to-day classes.
"They will be scheduled like classrooms. There will be a couple teachers that will teach over here and have their offices here, as well," Foley said. 
Interestingly, the walls of the main room are covered in sound-absorbing acoustic foam that was installed by the previous tenant to enhance the audio quality within the building.
"We are going to keep as much of (the foam) as we can. Some of it doesn't adhere well, but it does absorb the sound," Foley told the Chronicle. 
Given the brevity of five-minute passing periods in between classes, the connection for students traveling from far-off areas on the main campus, such as the Performing Arts Center, will be tight to get to class on time. 
Current plans aim to have the clubhouse open and operational by the beginning of the next school year. However, extended wait times for permits and other logistical factors may push that date closer to the second semester. 
"We're still in the design phase. There is a group of probably ten teachers and administrators working through what the design looks like and what the cost will be. It's not settled yet," Foley said. "You have to apply for permits with the City of Beaverton. That process takes 8 to 10 weeks to receive comments and approval," he continued. "And then, we think that the construction will last 15 to 16 weeks." 
About the Contributor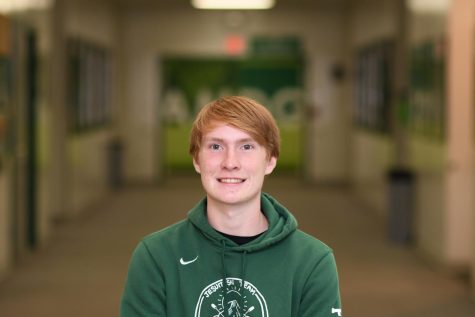 Mac Flanagan, Editor & Social Media
Mac Flanagan is a senior at Jesuit High School. He is a first-year Journalism student and hopes to learn more about the field. Mac has enjoyed writing throughout his life and knew he wanted to pursue it further by the beginning of middle school. He is a second-year Broadcast Journalism student, and an active member of Jesuit's student-run sports broadcasting station, JCTV. After enjoying the Broadcast class, he decided he wanted to expand to Journalism as well. He participates in the Jesuit Ski Team and loves spending time on the slopes with friends. Outside of school, Mac enjoys outdoor activities such as skiing and backpacking. He has one dog named Maggie. He is a fan of the Portland Trailblazers and follows the NBA closely. He is also an amateur landscape photographer and enjoys shooting in scenic places around the Pacific Northwest. His favorite news sources are the Oregonian and Bleacher Report. Mac hopes to contribute writing about Jesuit athletics and outdoor recreation around Portland.