Athlete Spotlight: Miles Eastman
Spring sports are starting up again at Jesuit and the Men's golf team is anticipated to have a successful season, led by senior Miles Eastman. 
Miles Eastman is captain of the golf team this season. 
"I feel really good about the start of the golf season. This is always my favorite time of the school year and I don't think this year is going to change that whatsoever. We have a great team that has a lot of potential in the future," Eastman said. 
He is excited to play a full season that has started on time, and without masks. 
"There are some differences between this season and last season," Eastman said.  "State is going to play this year and the season is able to start normally in February. Last year, we had to wear masks on the course for most of the season, and this year that won't happen," Eastman added. 
He is excited to be a captain this year and loves to have the pressure and responsibility that he didn't get to experience last season.
"I think it's awesome that I've gotten the chance to be captain this year. It adds another layer of pressure and responsibility, but luckily the other captain on the team, Ethan Krause, is a good friend of mine and someone I really like leading with," Eastman said. 
Ethan Krause is a co-captain on the men's golf team and spoke about his relationship with Eastman. 
"Miles and I have grown closer through golf over the past 4 years and I have been extremely blessed to have him as a friend and a co-captain. He is a great golfer and an even better person and leader. I am thrilled to continue to lead with him," Krause said. 
Eastman is an outstanding athlete on the golf course and studious in the classroom. 
"My first semester went pretty well. My grades were solid and I was able to get a lot of off-season work done in preparation for this spring," Eastman said. "I'm really trying to cherish the time I have left in high school, so I also had fun attending Jesuit football and soccer games to support my friends," Eastman added. 
Ms. Kathryn Humm, biology teacher at Jesuit, is one of Eastman's teachers this year. 
"Miles is a kind, welcoming young man. He works well in any group. Miles is able to take a leadership role when needed, and also supports others to take the lead. It's great to have him in class," Humm said. 
Eastman is still working hard through his second semester. 
"My classes are tough this second semester and I am definitely feeling the senioritis itch. It has gotten progressively harder and harder for me to sit down and do homework and it has shown. I hope after spring break my workload eases up a bit so I can put more of my energy into the golf team," Eastman said. 
He may be feeling senioritis but he has exciting things in the future. 
He has committed to play DIII golf at Occidental College in Los Angeles, California. 
"I am really excited to be going to Occidental next year. I love everything about the school, the coach is a great guy, and I already know some of my future teammates," Eastman said. "I think a strong school like Occidental allows me to grow academically, and the great weather and practice facilities will help me grow with golf," Eastman added. 
Miles Eastman is an exceptional student, leader, athlete and man for others that is ready to lead Jesuit in getting a state title in mens golf and bringing his skills to Occidental College next year. 
About the Contributor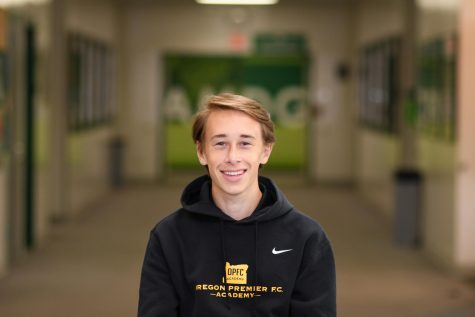 Henry Hess, Staff Writer
Hello my name is Henry Hess. I am a senior at Jesuit High School. I was born in Boston, Massachusetts and have lived in Portland for 15 years now. I have played soccer since I was 2 years old and the sport is still my passion today. I play on the varsity team here at Jesuit and play for a club team called Oregon Premier Football Club. In my free time, I like to make and watch films, ski and travel with my family. I am an intern for my dad's company, Jumpturn Consulting. I live with my dad, John, my mom, Jennifer, my sister, Adelaide, and my black lab, Gordie. My sister is a freshman at Northwest Academy. I am taking Journalism this year to improve my writing skills and write and research about current events and sports.