Everything You Need to Know about the War in Ukraine
The Quick Facts of the situation: 
Ukraine has a population of 44 million people. 
It is a democratically-run nation in Eastern Europe. 
The capital of Ukraine is Kyiv, a city Russia is targeting to invade. 
As of there have been upwards of 20,000 deaths and 6.5 million people have been displaced by the war. (NY Times and US News) 
Why is Russia attacking Ukraine?
Vladimir Putin, President of Russia has claimed that a "special military operation," is needed to protect the people of Ukraine from "genocide" and "bullying". He claims "demilitarization and de-Nazification" of Ukraine is needed so that Russia could feel safe. (SKY)
How is Ukraine operating?
Ukraine is a sovereign, democratic nation of 44 million progressive minded people. There is no neo-nazi genocide being committed and the President, Volodymyr Zelenskyy is Jewish, the first country other than Israel to have a Jewish head of state and government. (SKY)
Who is Volodymyr Zelenskyy?
Volodymyr Zelenskyy is Ukraine's 6th president. His political rise is somewhat of a rollercoaster. Zelenskyy grew up in Southern Ukraine and while studying for a degree in law became engaged in theatre and acting. In1997, Zelenskyy established a comedic and acting group called Kvartal 95, a nod to his neighborhood called Quarter 95. The group of entertainers would go on to become nationally known for appearing in the finals of an improvisational comedy competition. In 2003, he established the company as a production studio that would become one of Ukraine's most renown production studios. In 2013, Zelenskyy became an internet sensation as a character in a new television series. He made the announcement to run for president of the country on December 31, 2019 as part of a new political party called Servant of the People, and utilized YouTube and other social media programs like Instagram to address the people of Ukraine throughout his run for presidency. Mr. Zelenskyy was elected president in April 2019 with a 73% majority vote. His political party, Servant of the People, did not have any representation in parliament, but when elections were held after his presidential inauguration, the party gained a majority. Since becoming President of Ukraine, Mr. Zelenskyy has had to deal with issues pertaining to Crimea, COVID-19 and now protecting his country from Russian invasion. Zelenskyy has become a symbol of hope for his country. He has been commended for his bravery, courageously staying behind in his country while facing constant threat of bombing and even assasination. He has continued to speak out against Putin and his unethical attacks on citizens and has become a symbol of hope for Ukraine and many people around the world. (Britannica)
How long has there been conflict between Ukraine and Russia?
In February of 2014, Ukrainian protestors overthrow their President, Viktor Yanukovch, who sympathized with Russia's interests. The new government signed a trade agreement with the European Union. Up until that point, Ukraine had been an independent country not tied to any organization or governing body. This was seen as a first step towards becoming members of the EU. Russia felt threatened by the potential that Ukraine could gain the backing of the EU, prompting President Putin to invade and annex the Ukrainian peninsula of Crimea two months later. War is continued between the two countries in a Ukrainian region known as Dudas, with around 13,000 Ukrainian soldiers and civilians dying. A cease-fire agreement called the Minsk Accords is signed between Russia, Ukraine, France and Germany. France and Germany assumed the role of mediators in the Accords, but the agreements broke down several times with Russia not feeling binded by the agreements. During the past year or two, Putin demanded "security guarantees" from NATO and Ukraine that the latter will not join NATO and that NATO will pull out its troops from surrounding areas. Another point that should be mentioned is that in 1994, under the Budapest Memorandum Ukraine gave up it's nuclear arsenal and in exchange Russia pledged to respect that Ukraine is an independent and sovereign nation. (The New York Times)
How is Russia currently attacking Ukraine? 
One main way Russia has been attacking Ukraine is by missiles and bombings. These have been directed at military sites like airplane plants and bases, and have additionally hit civilian-populated areas like hospitals, apartment complexes and more. Russia has also invaded by ground, using tanks and other military vehicles. 
Sources:
NY Times: https://www.nytimes.com/2022/03/16/us/politics/russia-troop-deaths.html
US News: https://www.usnews.com/news/world/articles/2022-03-18/un-6-5-million-people-displaced-inside-ukraine-due-to-war
SKY: https://news.sky.com/story/inside-the-mind-of-putin-why-is-he-invading-ukraine-and-what-does-he-want-12550167
Britannica: https://www.britannica.com/biography/Volodymyr-Zelensky
Popular Front Instagram page
About the Writer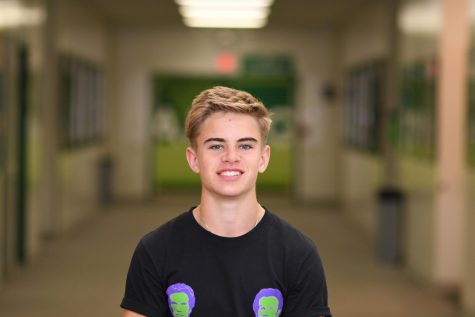 Spencer Carle, Staff Writer
Spencer Carle is a first year writer for the Jesuit Chronicle. As a member of the class of 2022, Spencer decided to take Journalism primarily because of his uncle Neil, who studied journalism at the University of Oregon and is now an anchor on the late night show: SportCenter on ESPN. Spencer has a true passion for sports, especially soccer, and has committed to play collegiate la at the D1 level at Gonzaga University. One of his essential inspirations for sports journalism is watching early morning soccer analysts on NBC and Sky Sports. His first experience with journalism was as a junior taking the Broadcast Journalism class, where he learnt how to commentate live sports, conduct interviews and display videography skills. This year, Spencer hopes to learn the fundamentals of journalism, and primarily focus on covering the school's Varsity games and pursue stories tied with the sports programs. In addition to writing about sports this year, Spencer would love to write about problems students face at Jesuit, mental health, food and fashion. Outside of the classroom, Spencer is one of the captains for the men's soccer team, a cook, an avid traveler and loves to spend time with his friends and family. A fun fact about him is that he lived in London and Amsterdam between ages six to ten.