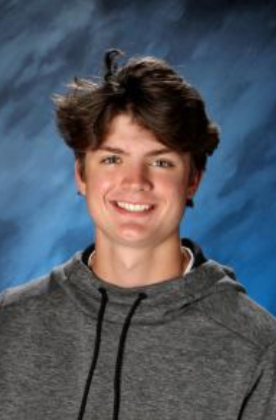 Patrick Kelley
Patrick Kelley has been a member of student government this past year, as well as an ambassador at Jesuit. He plays football and basketball, and competes in track. Patrick is focusing on making Jesuit a place students want to be rather than a place they have to be. 
"I want to revive the Jesuit community that we lost over Covid," Kelley said,
CANDIDATE'S STATEMENT
Hey Jesuit, my name is Patrick Kelley. When I first came to Jesuit I was very intimidated and nervous for my first few days because I was the only boy from my middle school and I was not sure if I would like it here. As soon as I got involved in the freshman activities, and Freshman Football I realized how I could make new friends and recognized that we were all in the same boat, starting high school together. If I get elected as a Senior Class Representative next year, I want to get more students involved in our class activities and increase our school spirit! Some of the things I really enjoyed as a freshman were the school wide assemblies and the student section at sports games. While we were not able to enjoy these activities fully this year due to coronavirus restrictions, I will work to help re-create and bring back that same energy and spirit on campus!
HOW WOULD YOU BALANCE THE NEEDS OF THE STUDENTS AND THE INSTITUTION?
I would engage in open and respectful dialogue between the administration and the student body. My goal would be to create an environment in which the students are happy within the boundaries of the Administration.
HOW WOULD YOU PROMOTE SCHOOL SPIRIT AND COMMUNITY AT JESUIT?
I would promote school spirit and community at J-High by creating activities to engage more students from throughout the school community. It is important that a diverse group of students are interested in participating in school events together.
WHAT DO YOU BELIEVE IS THE MOST SIGNIFICANT ISSUE THAT THE STUDENT GOVERNMENT SHOULD ADDRESS?
A significant issue that I believe Student Government should address is the need for more community building activities after the CDC guidelines were lifted. I believe we can re-create the Jesuit community we almost lost over covid, and that we can do this by thinking creatively and focusing on the student body.
HOW SHOULD A STUDENT LEADER RESPOND IF A STUDENT GOVERNMENT RECOMMENDATION IS NOT ADOPTED BY THE SCHOOL?
As a student representative, if a Student Government recommendation is not adopted by the school I would continue to work closely with the administration to re-evaluate the situation and find a mutually agreeable solution that benefits both parties.