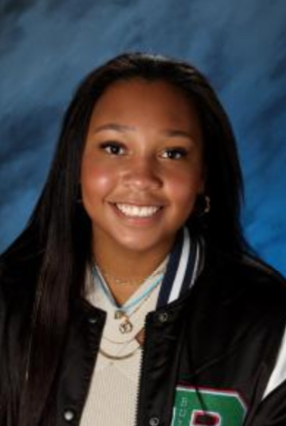 Trinity White
Trinity White is captain of the varsity cheer team at Jesuit and manager of the varsity women's lacrosse team. She also runs the Smiles and Pom Poms Team, a small cheer squad for children with learning differences. Her main priority is breaking down the barriers between grade levels at Jesuit. 
"It's hard to have a community of people when there's such a strong divide between our classes," White said.
CANDIDATE'S STATEMENT
Hey J-High! My name is Trinity White and I'm super excited to be running for ASB! The past three years I've had the pleasure of cheering alongside you all in various athletic events and spirit assemblies as a cheerleading captain. I have seen first hand the incredible things and the creative ideas we can come up with as a community. Jesuit is composed of individuals coming from completely different walks of life. I want to share a diverse, inclusive, and enthusiastic presence to student government. I want your input to be impactful and acted upon at Jesuit. The word "community" is a constant work in progress, and I believe as your future ASB, we can work TOGETHER to create a unique interactive environment for this upcoming school year. Fun activities like tailgates, scavenger hunts, and class nerf competitions, are just a few ideas I want to implement at JHS!
HOW WOULD YOU BALANCE THE NEEDS OF THE STUDENTS AND THE INSTITUTION?
I would balance the needs of the students and the institution by encouraging discussions about the disfavored enforcements at Jesuit. I believe having discussions about why certain rules and guidelines are in place would improve the aspect of equal input in our community.
HOW WOULD YOU PROMOTE SCHOOL SPIRIT AND COMMUNITY AT JESUIT?
I would promote school spirit and community at Jesuit by encouraging Jesuit to connect with people from different walks of life. Jesuit has such a diverse mixture of personalities, gender identities, and cultural backgrounds, that makes us so unique. Understanding and connecting encourages such a strong sense of school spirit when you know who you're cheering, working, or playing for. As Dumbo once said, "Embrace what makes you different".
WHAT DO YOU BELIEVE IS THE MOST SIGNIFICANT ISSUE THAT THE STUDENT GOVERNMENT SHOULD ADDRESS?
I believe the most significant issue that Student Government should address is the overall divide between the classes. How can Jesuit fully be a community if there is such a prominent split between the grade levels? Breaking down these barriers can be achieved through acts such as eliminating grade sections during assemblies or encouraging groups to include students from multiple grade levels for Munch Madness!
HOW SHOULD A STUDENT LEADER RESPOND IF A STUDENT GOVERNMENT RECOMMENDATION IS NOT ADOPTED BY THE SCHOOL?
If a Student Government recommendation is not adopted by the school, a student leader should respond with clear reason as to why the recommendation was not enforced. Giving an explanation behind different outcomes is imperative to making the students at Jesuit feel as if their voices are still being heard, even if an idea isn't implemented.