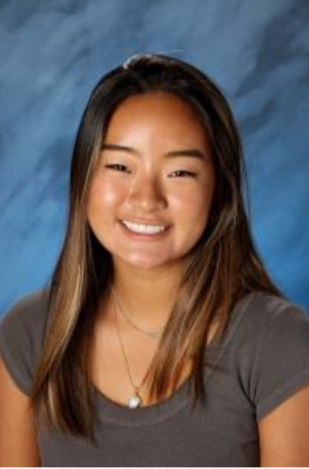 Sydney Kim
Sydney Kim is a current member of student government, an ambassador at Jesuit, and captain of the varsity women's lacrosse team. Her main goal is to help students expand their community within Jesuit. 
"I want to help students create connections outside of their grade level and their normal group," Kim said.
CANDIDATE'S STATEMENT
Hey Jesuit! I'm Sydney Kim and I would love the opportunity to represent you all in ASB. My leadership skills, work ethic, and love for our community are just some of my strengths. With the immense resources Jesuit offers, I have grown so much as a student, athlete, and overall person during my time here. As a Varsity Lacrosse captain and Student Government member, I'm honored to have experience collaborating with different voices to bring new ideas to the table. I have learned to advocate for what I believe in, and next year I will be committed to help share the voices of our students. Our students have amazing ideas to strengthen and improve our community, and I want to give them platforms to share their great ideas. Jesuit, we've proven we can push through adversity and come back stronger than before. I have high hopes for us next year!
HOW WOULD YOU BALANCE THE NEEDS OF THE STUDENTS AND THE INSTITUTION?
I would help by being the common ground between the students and the institution. I'll work to give students space to voice their questions and concerns, with the reassurance that someone is listening. Additionally I hope the institution is open and honest about their expectations for the students.
HOW WOULD YOU PROMOTE SCHOOL SPIRIT AND COMMUNITY AT JESUIT?
I hope to encourage students to create connections outside of their usual social groups. Whether they're in a different grade, or just a different lunch, I think it's incredibly important to meet new people. Additionally I believe we can prioritize supporting other students. Besides cheering from the sidelines, advocating for other students and providing social and mental health assistance are other ways we can continue to support one another.
WHAT DO YOU BELIEVE IS THE MOST SIGNIFICANT ISSUE THAT THE STUDENT GOVERNMENT SHOULD ADDRESS?
In my opinion, the most significant issue Student Government can address is student engagement in our Jesuit community. I hope by blending together our classic traditions with new events, we can increase student engagement all around. I want students to have the ability to step outside of their comfort zone, and really enjoy being part of the community here.
HOW SHOULD A STUDENT LEADER RESPOND IF A STUDENT GOVERNMENT RECOMMENDATION IS NOT ADOPTED BY THE SCHOOL?
If a Student Government recommendation is not adopted by the school, the proper response would be to understand and accept the school's decision. I believe being able to accept criticism is key to being a good leader. Student
Government should then respectfully inquire why the decision was not accepted and work to compromise for something which benefits both the students and the institution.