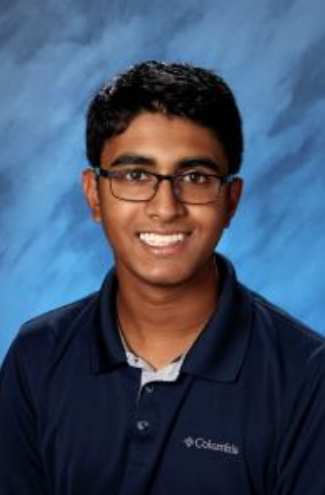 Rohan Varma
Rohan Varma is a varsity tennis player, and a lead ambassador at Jesuit. He is part of the shadow team, greeting eighth graders on their visits. He is also on the leadership team for Asian Student Union and captain of the Ethics Bowl team. His main objective is to focus on bolstering the Jesuit community. 
"Community is what makes Jesuit so special: that brotherhood, that sisterhood which includes everybody," Varma said.
CANDIDATE'S STATEMENT
Hey Jesuit!! My name is Rohan Varma, and I'm running to be YOUR ASB President. I would love to have the privilege of representing the Jesuit student body because, under my leadership, I believe that we can create a more positive and dynamic community. As Jesuit lead ambassador and member of the Diversity, Equity & Inclusion Student Council (DEI), I have a strong understanding of the needs and wants of the student body. As ASB President, I will prioritize not only rebuilding our Jesuit community but also enhancing it. This means finding new ways to communicate with the student body and placing a strong emphasis on organizing engaging and unifying events such as the Munch Madness Tournament. I can't wait to see what we will accomplish together J-HIGH!
HOW WOULD YOU BALANCE THE NEEDS OF THE STUDENTS AND THE INSTITUTION?
As ASB President, I will listen to and understand the student body's major needs, and considering all aspects carefully, I would seek discussions with the administration to articulate their requests and accommodate the requirements to the maximum extent within the policies of the institution.
HOW WOULD YOU PROMOTE SCHOOL SPIRIT AND COMMUNITY AT JESUIT?
What I find special about Jesuit is the spirit that is generated by our community. However, I believe we need to put an emphasis on revitalizing the Jesuit spirit and continue enhancing our community. To promote school spirit, I will coordinate with our club leaders and the DEI office to ensure entertaining and inclusive programs and rebuild the community builder program to strengthen the spirit within our community.
WHAT DO YOU BELIEVE IS THE MOST SIGNIFICANT ISSUE THAT THE STUDENT GOVERNMENT SHOULD ADDRESS?
A significant issue I believe student government should address is the creation of new fun and spirited events during lunchtime and FLEX that all grades can participate in with their friends to create the special bond that events such as the Munch Madness tournament provided where everybody can participate and team up with their classmates. By producing more events that we can all participate in, we can enhance the spirit within our community.
HOW SHOULD A STUDENT LEADER RESPOND IF A STUDENT GOVERNMENT RECOMMENDATION IS NOT ADOPTED BY THE SCHOOL?
As ASB President, my most important responsibility is to represent the needs and wants of the student body to the administration. However, I understand that sometimes ideas cannot be implemented for certain reasons. I believe that transparency and mutual understanding are key, and I will ensure that the administration is aware of why a proposal is being requested; and if rejected, I will ensure that students are aware of why it was declined.