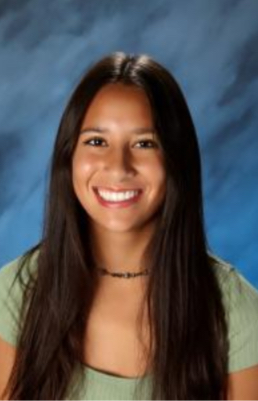 Jordan Haines
Jordan Haines is a varsity soccer player and varsity runner, as well as a member of Asian Student Union. She wants to bolster the excitement around all Jesuit sports and activities. 
"Ethics Bowl won a national championship and only got one announcement and a banner. They should get more recognition," Haines said.
CANDIDATE'S STATEMENT
Hey Jesuit! I'm Jordan Haines and I am very excited to run for ASB. I believe I am a good contender for ASB because of my skills and the understanding I have of other people. Like many of you, I am a student athlete. I understand the struggles of late nights and drowsy days in class. Additionally, as an AP student, I understand the tough workload for all students. I want to improve Jesuit by bringing up the energy, including every student in activities, and helping students manage their workload. I promise to bring back all of our favorite events, spirit days, and assemblies. Go Jesuit!
HOW WOULD YOU BALANCE THE NEEDS OF THE STUDENTS AND THE INSTITUTION?
In order to balance the needs of the institution and the students, I would first come up with suggestions or plans that seem feasible for both parties. If needed, I would initiate discussion with the students and institution to find a middle ground that both parties agree with.
HOW WOULD YOU PROMOTE SCHOOL SPIRIT AND COMMUNITY AT JESUIT?
Spirit days, assemblies, and spirit emails are all a great way to spread spirit and information about sports games and important upcoming events. I would continue these into the next school year and even try to improve them by adding more fun activities.
WHAT DO YOU BELIEVE IS THE MOST SIGNIFICANT ISSUE THAT THE STUDENT GOVERNMENT SHOULD ADDRESS?
I believe that the most significant issue is the dress code. I love the addition of sweatpants and leggings and I believe that Student Government should try its hardest to advocate for a more relaxed dress code while also being reasonable. Students should be allowed to express themselves in school in an appropriate way.
HOW SHOULD A STUDENT LEADER RESPOND IF A STUDENT GOVERNMENT RECOMMENDATION IS NOT ADOPTED BY THE SCHOOL?
If a recommendation is not adopted by the school, student leaders should accept the school's decision. However, if it is something that the student body is adamant on, student leaders should try and adapt the recommendation to where both the student body and administration agree.