Spring Dance Review
Last Friday not only marked the first day of April, but also Jesuit's first Spring Blossom Dance. The event took place from 8-10 pm and was attended by students of all grades.
Junior Noah DeKlotz says lower upperclassmen attendance didn't affect the excitement and fun of the dance.
"It was mostly freshmen and sophomores," DeKlotz said. "But I still thought it was really enjoyable and a lot like the dances from my freshman year."
Attendees had to enter by 8:30 with a student ID, and were allowed to leave after 9:30. Upon arrival, they had the opportunity to put their belongings in bag check and enter the dance.
Students enjoyed the typical lively setup of Jesuit dances, including colorful lights, water tables, and plenty of room to dance. Similar to this year's Homecoming, the dance was held in Smith gym.
A DJ was stationed in the corner providing a varied, exciting soundtrack. The playlist ranged from Flo Rida to BTS to even the Cupid Shuffle.
Sophomore Abby Wentworth believes this dance set a high bar for her limited experience with Jesuit dances.
"I really liked the music," Wentworth said. "I liked that it wasn't too crowded. This was my first dance at Jesuit, and it really lived up to expectations."
This event also made history as Jesuit's first official dance or event not requiring masks since the start of Covid-19. It was interesting to be as close to a "normal" dance that Jesuit has been since.
Overall, the dance was a success in bringing spring fun to Jesuit students.
About the Contributor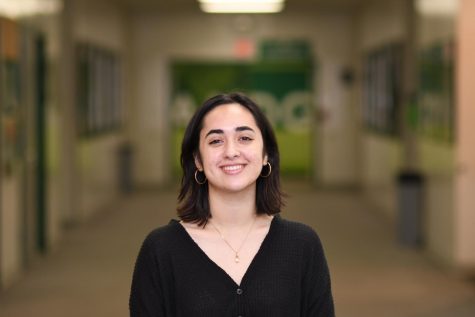 Bella Klucevek, Staff Writer
Bella Klucevek is a senior at Jesuit High School and a first-year writer for the Jesuit Chronicle. She loves to write, and she is excited to highlight the beauty of life at Jesuit and bring light to issues that affect the greater community. She is heavily involved with activities in the Jesuit community, participating in Choir, the Jesuit Ambassadors, Setons, and singing at Mass. In addition to her performances at school, Bella spends her time singing with Pacific Youth Choir, performing solos for competitions, and even an interview on All Classical Portland Radio. A passionate volunteer in her community, she teaches choral music and art to elementary students after school. Bella believes that giving back is important, and that it can inspire others to make a difference. She believes the arts are an excellent way to bring people together, especially the art of writing. Her passion for journalism began her 8th grade year, when she wrote for her middle school's newspaper in a weekly journalism class. Bella is excited to be writing for the Chronicle, and she hopes to bring joy to the lives of her readers while also sparking conversation about Jesuit life and current events.