FIFA World Cup Preview
With 1.1 billion people watching on average, the World Cup is the most viewed tournament in the world. Nations from around the world go to one country to play the beautiful game. 
Despite the fanfare, this year's World Cup is more controversial than most.
The world's domestic leagues will pause this fall and winter for the World Cup to be played in Qatar. Being a summer tournament, Qatar's high temperatures has changed it to a winter tournament this year. 
There are other controversial rumors of Qatar officials paying off The Fédération Internationale de Football Association (FIFA) for it to be played in Qatar. 
There are also many European journalists discovering human rights violations involving the Qatari people and rights against the LGBTQ+ community in soccer. This caused problems between European soccer federations and Qatari officials. 
Senior Nate Normile has followed the corruption involving Qatar profusely. 
"In short, I'd say that the decision to even allow Qatar to be in contention to host a global event is disgraceful, let alone the World Cup, a tournament that is meant to symbolize coming together in peace. You could disregard all the human rights violations, homophobia and corruption in the state and still wonder, why Qatar?" Normile said. 
Still, the World Cup is still set for Qatar to host it and there are many competitive teams going into the World Cup this year. There are three teams going into the tournament as favorites. 
France, winners of the 2018 World Cup, could potentially win for the second time in a row. They have some of the best players in the world led by Karim Benzema, N'Golo Kanté and Kylian Mbappé. They are ranked 3rd by FIFA.
Belgium has been competitive for years now. The dynamic, seasoned team did not lose a single game with their World Cup qualifications. Belgium will be led by Kevin De Bruyne and Romelu Lukaku as they are ranked 2nd by FIFA. 
Brazil has won 5 World Cups and are ranked first. For years, the Seleção have been led by Neymar Jr. This year he will have help from Vinicius Jr., Alisson Becker and Lucas Paquetá. They also didn't lose a single game in their qualifications. 
There are 8 groups for this tournament, with Group F being considered the group of death. 
Here are the groups:
Group A: Qatar, Ecuador, Senegal, Netherlands
Group B: England, Iran, USA, Ukraine/Scotland/Wales
Group C: Argentina, Saudi Arabia, Mexico, Poland
Group D: France, Australia/UAE, Peru, Denmark, Tunisia
Group E: Spain, Costa Rica/New Zealand, Germany, Japan
Group F: Belgium, Canada, Morocco, Croatia
Group G: Brazil, Serbia, Switzerland, Cameroon
Group H: Portugal, Ghana, Uruguay, South Korea
With every group being competitive, there are also play-in games for Group B, D and E. 
The U.S. qualification has caused excitement in many Americans for this World Cup. But many Jesuit students still follow other international teams and games. 
Seniors Nate Normile and Luc Insley played on the men's Jesuit soccer team and they follow many European international teams. 
"France has so much talent, I don't think they'll crash out like they did in the Euros," Normile said. "There isn't an international team that can defend in-form Benzema and Mbappé for 90 minutes," he added. 
Senior Luc Insley also has opinions about the World Cup. 
"I personally think that Brazil has the highest chance of winning, however, I think Argentina's current streak will make them strong contenders and I'd really like to see Messi win a World Cup. I think the "dark horse" will be Belgium because they always have a strong squad, and France with their extensive squad could also repeat their 2018 victory," Insley said. "Lastly, I'd say Spain could go as far as the final due to their youngsters, Pedri and Gavi, being very talented and mature for their age."
Insley is also excited to see Christian Pulisic lead the USMNT. 
"The U.S. has a strong yet not too difficult group. I think that if the U.S can get out of the group stage they can easily go on a run to the quarter finals. I don't really see us getting further than that but it's football so anything can happen," Insley said. 
More than 1 billion people watch the World Cup, and it will not change with this year's controversial but highly anticipated tournament. 
The first game will be kicked off on November 21 with Senegal vs Netherlands, and the final will be played on December 18. 
About the Contributor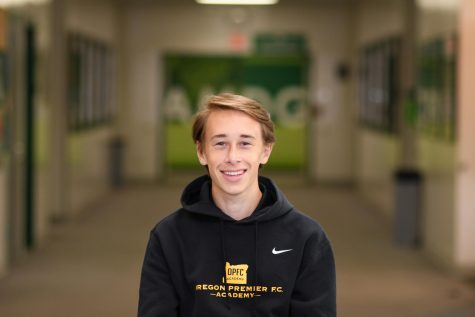 Henry Hess, Staff Writer
Hello my name is Henry Hess. I am a senior at Jesuit High School. I was born in Boston, Massachusetts and have lived in Portland for 15 years now. I have played soccer since I was 2 years old and the sport is still my passion today. I play on the varsity team here at Jesuit and play for a club team called Oregon Premier Football Club. In my free time, I like to make and watch films, ski and travel with my family. I am an intern for my dad's company, Jumpturn Consulting. I live with my dad, John, my mom, Jennifer, my sister, Adelaide, and my black lab, Gordie. My sister is a freshman at Northwest Academy. I am taking Journalism this year to improve my writing skills and write and research about current events and sports.