Student Spotlight: Joseph Ulrich Qualifies for State Solo Competition
Baritone singer Joseph Ulrich set a school record this year winning the District Solo Competition as a freshman. His performance qualified him to move on to the statewide level of the competition.
Ulrich's lifelong love of music is a primary reason he decided to compete.
"I have been singing in general my whole life," Ulrich said. "My mom has always sung for me and things like that, it comes pretty naturally. I did choir all through middle school, so I've done a lot."
Ulrich is heavily involved in Jesuit's music department. As a member of freshman choir class, he was encouraged by Jesuit choir director Kirsten Caldwell to enter the Oregon Solo & Ensemble Music Festival, a competition for high school singers and instrumentalists.
Ms. Caldwell has every choir student learn a solo piece but lets them choose whether they will perform it.
"Joseph did most of it on his own," Caldwell said. "We had a January-February class solo project, and he chose a classical song instead of jazz or Broadway which made him eligible to compete, and he jumped at the chance."
With Ms. Caldwell's guidance, Ulrich decided to enter "Shenandoah," an Appalachian folk song by Celius Doughtery, in the competition.
"He's been very self-directed with his solo work," Caldwell said. "I helped connect him with a professor at Pacific University, and he's had a couple sessions of private coaching."
After weeks of rehearsing, Ulrich was ready for district-level competition. The competition was held on February 26 at Mountainside High School, where he performed his song for a judge. In return, he received feedback, a score out of 330 points, and his ranking among all performances in his section.
"It was definitely pretty stressful going into it, but while I was performing it didn't really feel much stress," Ulrich said. "It just felt like me going in there and singing, doing what I was supposed to do. Afterward, it felt really nice because I felt I did a good job and the judge had some good advice to give me. I've never done any kind of competition like that before."
Joseph's performance placed him in the top category, winning the Baritone section and automatically qualifying him for State.
Ms. Caldwell expresses her excitement about this win both for Joseph and for Jesuit choir.
"I don't know if a freshman winning has ever happened here before!" Caldwell said. "I think he likes the idea of pushing himself. He does it in school, he does it in golf, and on the varsity team, and definitely in choir. I was really excited to see him both win his Baritone Room, as a freshman, and get to go to State. The sky's the limit for how he does in choir as he matures into his voice."
Freshman choir student and solo singer Angel Dauvin recalls listening to Ulrich sing "Shenandoah" for the first time.
"When I first heard it, we were in the practice room with the pianist," Dauvin said. "I remember I did mine first and he said 'Wow, that was amazing.''""He's always really supportive. Then he did his and we were flabbergasted."
Dauvin is excited for Ulrich's future as a singer and hopes more male singers will engage with choir and art song solos.
Joseph will continue to State Solo competitions this weekend where he will compete against the top Baritone singers in Oregon.
About the Contributor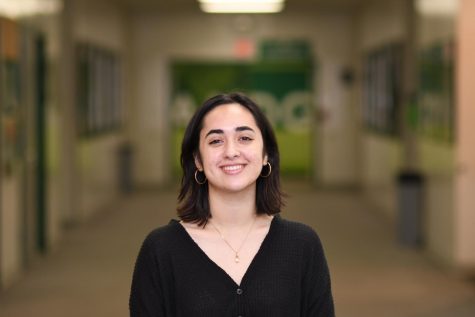 Bella Klucevek, Staff Writer
Bella Klucevek is a senior at Jesuit High School and a first-year writer for the Jesuit Chronicle. She loves to write, and she is excited to highlight the beauty of life at Jesuit and bring light to issues that affect the greater community. She is heavily involved with activities in the Jesuit community, participating in Choir, the Jesuit Ambassadors, Setons, and singing at Mass. In addition to her performances at school, Bella spends her time singing with Pacific Youth Choir, performing solos for competitions, and even an interview on All Classical Portland Radio. A passionate volunteer in her community, she teaches choral music and art to elementary students after school. Bella believes that giving back is important, and that it can inspire others to make a difference. She believes the arts are an excellent way to bring people together, especially the art of writing. Her passion for journalism began her 8th grade year, when she wrote for her middle school's newspaper in a weekly journalism class. Bella is excited to be writing for the Chronicle, and she hopes to bring joy to the lives of her readers while also sparking conversation about Jesuit life and current events.