Student Spotlight: Photographer Mirabel Streu
It's the week of finals. Jesuit students are busy repping and prepping for an intensive week of late nights, coffee, and red eyes. For Junior Mirabel Streu, she is departing for  New York City to accept her Scholastic National Gold Metal for photography award at Carnegie Hall. 
"It is the Scholastic Award, which encompasses arts and writing, but I put mine into photography specifically," Streu said. "People can submit and all submissions get awarded at the regional level and if you get gold regionally, then it goes to national judging, and then you either get gold or silver. With silver you get a special distinction, but I got gold."
For this special award, there were 260,000 applicants nationally and only 800 earned gold, including  Streu. This is Streu's second Scholastic Award, as she also won during her freshman year. 
Fine Arts Teacher Sascha Manning applauded Streu's dedication and effort throughout her Scholastic Competition process. 
"She is really proactive, especially in her advanced preparation for Scholastic. She knows her deadlines and dates, which helps her stay motivated to be prepared," Manning said. "We haven't had any students win two national gold awards, so that is astounding. She is very confident, for good reason and has an exceptional eye for photography."
Streu has been taking photography seriously and competing throughout high school steadily and increasing the caliber of her work. 
"I started seriously doing photography freshman year," Streu said. "I would take pictures of my brother and my cat, and then it slowly grew and I got a fancier camera and lenses, even though it's still not super serious. For example, I spent all of yesterday afternoon just taking pictures of flowers. 
Additionally, Streu comes from an artistic family, which she says supported and inspired her photography. She has found that the technical proportions and the composition was not difficult to execute. 
"My family is very involved in the arts," Streu said.  "The proportions came naturally and I didn't really have to focus on it, it just made sense."
For Streu, photography remains a serious hobby,and she finds it incredibly rewarding, even though she does not aspire to pursue it as a career. 
"I really want to go into medicine," Streu said. "I still really enjoy photography and I could continue doing it, just not as a career. The ways you can make money in photography are senior photos and family photos, and you only have a set number of things you can do with them, and even after doing a few I am bored. You can only do the same poses and photos."
Streu finds some of the things that inspire her photography because of the uniqueness and ability to capture something never shot before.  She also works with people in studios and enjoys the ability to shift lighting. 
"I have a lot of pictures I like," Streu said. "My favorite thing to shoot is animals. I was taking 13 and 8 year olds to the zoo and I was more excited than them because I have my little camera. It is interesting and you can take photos that haven't been taken. It's interesting to try and take unique photos because a lot has been taken before."
She wishes to pursue photography as a hobby in college and hopefully receive grants to fund her artistic passion.
"I still really enjoy it, and I could continue doing it, just not as a career. The instability and repetition are what I don't like," Streu said.  
Peer and Junior Amelia Locati offered her insight on Mirabel's work and attitude.
"She always has a positive attitude, and she brightens my day," Locati said. 
Along with nationally recognized work, Mirabel has also displayed more local projects, one of which being a billboard on the way back from the Oregon coast. 
"I was doing pictures for a website, and I took a picture of a chair and they were like, 'you should shoot for a billboard,' but I never actually saw it,'" Streu said.
Streu also finds that creating art shouldn't be as rigid, and the categorization of art can sometimes be harmful. She also discusses art as a great tool towards self expression for many. 
"Art is really important because it teaches people to express themselves and it's enjoyable. For a lot of kids, you are either bad at art or good at art, and my advice is to just do it because it doesn't matter if you're 'good' or 'bad,'" Streu said. "I think art is important and helps people with creativity and composition. Art adds another layer to life and makes you notice things you might not normally notice."
 She offered advice to those interested in pursuing arts or those who are reluctant to try something new.
"Asking people who are better than you at whatever art," Streu said. "People need to accept that their art isn't perfect and ask those better to critique your work. There is always something to improve upon. Don't be scared to look up tutorials. Just do it a lot. If you look on my instagram, there are a lot of bad ones. Do it and then magically get better."
Fine Arts Teacher Ms. Manning echoed similar ideas concerning artistic effort and talent. 
"Sometimes we forget that for the creative arts and visual arts, it's not always someone who has a special gift, but it's also all of the time that they dedicate towards improving their skills," Manning said. 
Mirabel Streu will be accepting her award in New York this June and plans to continue pursuing photography. 
About the Contributor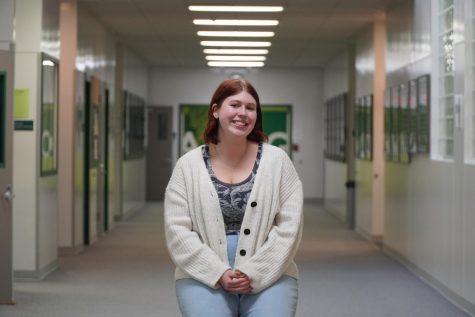 Allie Ruden, Editor in Chief
Allie Ruden is a senior at Jesuit High School and a second-year journalism student. Allie was born in Portland, Oregon, and is an only child. She has a labradoodle named Daisy who loves to nap and sunbathe.  In Allie's free time she loves to read, cook, and listen to all kinds of music. She loves to explore Portland with her friends. Her favorite places to eat in Portland are Bamboo Sushi, JoLa Cafe, and Grassa (highly recommended). Allie enjoys going to the beach, especially Manzanita and Lincoln City, and traveling all around Bend.  She loves writing and her favorite subjects in school are Journalism, English, and Spanish. Allie is interested in writing articles about music, pop culture, and the students and issues of the Jesuit community. She is excited to be able to write about what she is passionate about and delve into issues important to her. Allie is thrilled to be writing for
The Jesuit Chronicle
this year and is hoping to meet some new faces!