Mask Mandate Impact on Jesuit Community
In March 2021, students returned to the Jesuit campus for in-person learning. Despite many familiarities of campus, not all things were the same as before. Per the statewide mandate, everyone was required to wear a mask in their respective classes. The spread of Covid still loomed, serving as a reminder that the pandemic had not yet ended. The future looked uncertain regarding the status of masks. 
Throughout the rest of the 2021 school year, students still had the option to remain online and take classes through Zoom. Others who decided to go on campus were to wear masks at all times.
 A junior, Ben Tran, expressed his feelings on coming back during March 2021.
"It was weird at first," Tran said. "Not being able to see my classmates' faces definitely took some getting used to."
Junior Sankalp Gaddam also talked about his feelings regarding masks. 
"At the beginning it was awkward," Gaddam said. "As the year progressed I got more used to it, but conversations with friends definitely changed with masks." 
Senior Tieran Hawkins provided a different perspective when he returned to school in March. 
"It was normal for me because we had already been wearing them for a while," Hawkins said. 
Maria Naval, a senior, expressed her feelings about coming back to school after a year of online learning. Naval had not returned to on-campus learning since March 2020. 
"It was a little unreal, because a lot has changed since the pandemic started," Naval said. "Going back to school with masks was weird but I definitely got used to it."
New things around campus were also added in light of Covid; tents and heat lamps used for extra outdoor seating during lunch were put up in Hayes Plaza and outside the Hollman Family Student Union. Sprayable hand sanitizer bottles were also put in every classroom, for students to use to clean their desks after each class. 
As the 2020-21 school year ended, the state mandate remained the same, yet the mandates for the next year remained uncertain. 
The 2021-22 school year began with masks, the same as the previous year. As the year went on, more states began lifting their mask mandates. In late February, Oregon Governor Kate Brown announced that the indoor mask requirements would be lifted at 11:59 p.m. on March 11, 2022. This was in accordance with the governors of California and Washington. The announcement prompted Jesuit to follow the state mandate, after getting student and parent opinions on the subject through discussions and surveys.  
Based on over 1000 survey responses and lots of feedback from the community, Jesuit decided that they would make the drastic change. On March 7, Jesuit publicly announced that masks would not be required starting March 12. As stated in the email: "It will become the choice of our students, our colleagues, our families, and our guests to determine if they will wear a mask on campus." 
In order to combat concerns with the decision, Jesuit emphasized that anyone in the community who continued to wear masks would be respected and supported. The school also noted that they would still offer optional Covid testing. Ms. Sarah Cox and Ms. April Gilster are Jesuit's nurse team who would be available on campus at any time. 
Hawkins indicated his initial apprehensive reaction to the announcement. 
"I was a little concerned," Hawkins said. "But I started to get used to it and it was nice to be able to return to what life was like before the pandemic." 
Naval stated her positive outlook on the situation, highlighting the freedom it gave students. 
"It was good that they gave people an option," Naval said. "Students could do whatever they were comfortable with."
The looming week of spring break also further complicated the decision. Both Tran and Naval talked about their feelings of the timeliness of the announcement. 
"At first I thought it was a bad idea," Tran said. "Covid cases were still prevalent and spring break was approaching."
"After spring break I felt that they should've kept [masking], because a lot of people travel out-of-state." Naval said. 
Gaddam also shared similar feelings with Naval regarding the announcement. 
"I was hesitant at first because spring break was coming up," Gaddam said. "A lot of people go to different places, and I thought the cases might rise the week after."
Since the announcement in March, students have reflected on the advantages and disadvantages to having masks. Michael Yoo, a junior, stated his perspective on the current situation. 
"Right now, some people choose to wear masks to prevent allergies or getting sick," Yoo said. "Masks can work against other things besides Covid." 
Dominic Feliz is a senior who also mentioned disadvantages of having masks off. 
"There is always a possibility that Covid can spread faster," Feliz said. "Also, some students and faculty may feel unsafe with so many people without masks."
Gaddam and Hawkins also noted advantages in having masks off. 
"I feel that it is easier to talk with friends and teachers without masks," Gaddam said. "Seeing everyones face has been really nice."
"You feel more free without a mask," Hawkins said. "It is especially noticeable when you're exercising, as it's much easier to breathe without one."
After more than a month of having masks off, students and faculty continue to adjust to the Covid rules. Jesuit has continued to stay vigilant in the wake of an ongoing pandemic. Many hope that this decision will be the beginning of the end for Covid. 
About the Contributor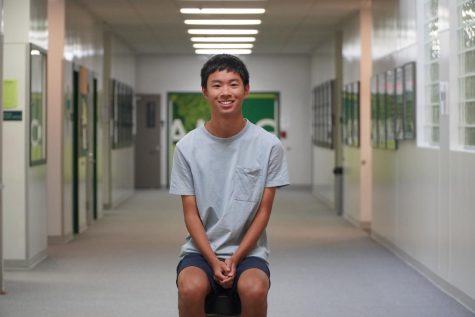 Justin Bian, Sports Executive & Editorial Board Member
Justin Bian is a senior at Jesuit High School and the Sports Executive for the Jesuit Chronicle. He has played soccer for eleven years, and piano for ten. Along with those hobbies, he likes to visit new places around Portland with his family on the weekends. Justin got interested in Journalism because of his older sister, Andrea, who was a staff writer a few years ago. Although his older sister's experience was a great motivator, the main reason he decided to join Journalism was because of his passion for sports. This year, he hopes to cover a variety of sports and write short stories about the games. He also looks to interview players, coaches, and fans, so that the Jesuit community can get insights on the sports teams. Justin would also like to pursue other forms of media, such as broadcasting and podcasts. He aims to bring relevant news around the Jesuit community based on current events on and off campus. At the end of the year, he hopes to have published many articles and have created lasting relationships with classmates and teachers.