Examining the Dress Code: Everything Students Need to Know
A series of emails and announcements have been released by the administration this semester regarding dress code. They state that the administration would be taking several weeks to re-evaluate the efficiency of the current dress code, how it compares to the previous rules, and the plan for the future.
As of right now, the dress code will not change for the rest of this school year, and decisions about next year will be made over the summer.
Vice Principal Scott Powers sat down for an interview and was willing to answer the questions students are likely to have.
What is the status of the current dress code?
The 2021-2022 dress code rules were crafted primarily as a response to the Covid-19 pandemic.
"We made a change to the dress code this year, coming out of the pandemic and even last year, we tried to address mental health," Powers said. "If you're in clothes you're more comfortable in, you'll be more comfortable in school. I think that was our initial thinking, starting it last spring and keeping it this year to see how it goes."
Changes made to accommodate a hybrid learning environment included allowing sweatpants, modifying dress-up days, and changing the required skirt and short length to just above the knee.
Why are they looking at the dress code?
"We always look at the handbook at the end of the year, at what's working and what needs to be revised," Powers said.
The Vice Principals have a discussion regarding current rules, and after examination, discuss what needs to be addressed. Newly introduced principal Khalid Maxie will likely have a contribution to the discussion as well.
Mr. Powers explains the purpose of Jesuit's dress code is to serve as a learning aid.
"Dress code is always about, 'Does it help or distract from the learning environment?' That's how we decide if it changes," Powers said.
What is going to change?
"There will probably be some changes, typically not major," Powers said. "I think we'll try to be a little bit more descriptive, maybe giving some stick figures that describe 'How long do shirts have to be?' and things that are more helpful than just having to read a paragraph about it."
One example of a rule that will be examined is sweatpants. Allowing them is difficult in the eyes of the administration, because the line between sweatpants (allowed) and pajama pants (not allowed) is quite thin. Mr. Powers and the Vice Principals often notice students also blurring the lines between slippers and school-appropriate shoes.
How will we be notified of the change?
Information about dress code comes out at the class meetings before the first day of school. At this meeting, students come to get their supplies and ID cards and sit in on an information session, where any changes to the handbook would be highlighted.
Until then, the dress code will stay the same. Current rules can be found in the student handbook.
About the Contributor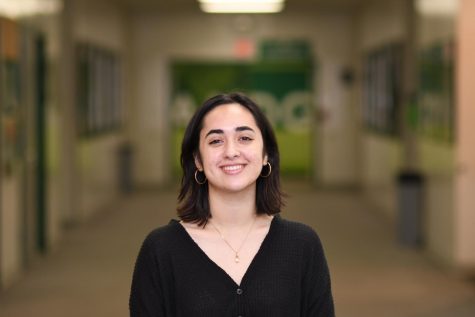 Bella Klucevek, Staff Writer
Bella Klucevek is a senior at Jesuit High School and a first-year writer for the Jesuit Chronicle. She loves to write, and she is excited to highlight the beauty of life at Jesuit and bring light to issues that affect the greater community. She is heavily involved with activities in the Jesuit community, participating in Choir, the Jesuit Ambassadors, Setons, and singing at Mass. In addition to her performances at school, Bella spends her time singing with Pacific Youth Choir, performing solos for competitions, and even an interview on All Classical Portland Radio. A passionate volunteer in her community, she teaches choral music and art to elementary students after school. Bella believes that giving back is important, and that it can inspire others to make a difference. She believes the arts are an excellent way to bring people together, especially the art of writing. Her passion for journalism began her 8th grade year, when she wrote for her middle school's newspaper in a weekly journalism class. Bella is excited to be writing for the Chronicle, and she hopes to bring joy to the lives of her readers while also sparking conversation about Jesuit life and current events.