Nike/Jesuit Twilight Relays Recap
After a three year break during  Covid, the Nike/Jesuit Twilight Relays returned April 29. Since 2000, Twilight has promised some of the fastest running times not only in the Pacific Northwest, but in the country, as well as record breaking field events. 
With the pandemic forcing kids out of their "normal" lives and fewer opportunities to race, this year's Twilight Relays was a symbol of a new standard of competition brought on by the pandemic and gave a glimpse of the depth of track and field talent that the Pacific Northwest is offering. 
"One of the things that the Twilight Relays demonstrated that I think is really exciting is that it's not just an elite mile event anymore," said Jesuit Track and Field Head Coach Laura Harmon. "We had the third highest high jump in Oregon history. We also had the all-time record in the state for the girls long jump."
The women's high jump record of 5-06.00 was broken by two Northwest athletes. Cascade's Emma Gates jumped 6-00.25 with a huge meet record, along with Tualitan's Kyra Bakke jumping 5-07.00. Emma Gates' jump makes her the third highest female jumper in Oregon state history.
Oregon City's Sophia Beckmon proceeded to break not only the previous long jump meet record of 18-11.25 with a 19-11.00 leap, but also set an Oregon state record for the girls long jump. Along with this impressive feat was Astoria's Colton McMaster who broke the previous shot put meet record of 57-05.50, throwing 60-04.25.
Lake Oswego's Mia Brahe-Pederson and Roosevelt's Lily Jones put on a show in the women's elite 100 coming down to the wire and both breaking the previous meet record of 11.68. Although neither of the two ran personal records, the incessant rain and poor wind conditions made the effort impressive.
The highly anticipated men's elite mile promised a showcase of the depth and dominance of Oregon running. After the Oregon Relays 3000 meter run two weeks ago at Hayward Field, with six athletes breaking 8:20, the expectations for this race were high. With 100 meters to go in the race, 13 runners were under the meet record for the 1500 meters, meaning the results could be anyone's race.
In the end, Tualitan's Caleb Lakeman was victorious, running 4:04.46 with 11 other runners breaking 4:10 for the mile. Notably, Crater's Josiah Tostenson broke the freshman high school national record in the mile running 4:09.11 and placed twelfth.
For the women's 1500 meter race, Jesuit senior Chloe Foerster emerged victorious after a close race with Franklin's Kaiya Robertson both breaking the previous meet record of 4:45.97 running 4:43.81 and 4:44.18, respectively. 
In the 3200 meter event–added in new this year and not an event typically run during high school track and field season–five men broke nine minutes for eight laps around the track. 
"As much as we focus on the elite mile, which was phenomenal, there were a lot of other things that happened, at Twilight," Harmon said. "With the 3200 meters added [as an event this year], I think it just allowed for more depth with the distance events which gave more opportunities to athletes with various strengths in the distance and not just in the mile. 
"You also had some incredible marks in the 100 as well."
For the girls, Oregon City placed first in the meet as a team; Summit was second; and Jesuit was third.
For the boys, Eagle placed first in the meet as a team; Lincoln was second; and Tualitan was third.
About the Writer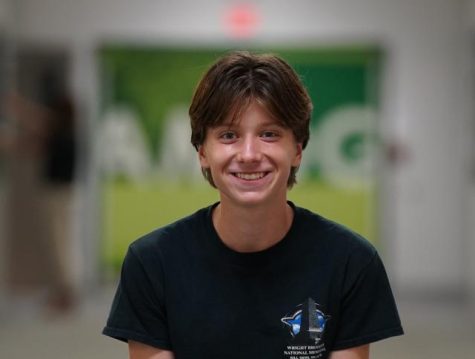 Gus Clevenger, Staff Writer
The power of storytelling is used to inspire and make people think more deeply and thoughtfully
about what was presented to them. To Gus Clevenger, a senior at Jesuit high school,
storytelling is at the forefront of his life, through seeking out new adventures and finding creative
ways to describe the world around him. As a young kid, Gus was surrounded with art and
writing and never saw himself doing much of anything else. Through listening to his dad make
up crazy stories about made up characters, to walking around OHSU and sitting through
interviews of dental students with his mom, storytelling was always there. This will be Gus's
second year as an editor and writer for the Jesuit Chronicle. In his first year as a Journalism
Student, he learned the fundamentals of Indesign as well as explored topics ranging from the
Jesuit administrative policies to food writing. Gus enjoys writing opinions , sharing different
perspectives, and connecting people through stories. He hopes to continue discovering what he
loves to write about as well as continue to put passion into his work to connect the Jesuit
community through stories and discussion. In his free time, Gus enjoys running, cooking,
drawing, going on long walks, and being with family.