Hidden Gems: Sambi | Japanese Restaurant
You wouldn't know it from the paper dividers that cover the windows, but Sambi, a modest and traditional dine-in sushi restaurant, packs a punch using sashimi ingredients that arrive fresh daily. With an uncompromising devotion to excellent ingredients and traditional Japanese rolling techniques, Sambi creates an authentic atmosphere that manages to remain timeless even with its historical decor. Accompanied by swift hospitality on the part of the servers, and a versatile consistency from their devoted back-of-house team, Sambi is the most reliable and rewarding venue this side of the West Slope.
"It's a nicer sushi restaurant," said junior Timmy Mullen. "It's a good place to go if you want to have a nice night out. The sushi is really good and whenever I eat it, it is consistently delicious."
The combination of salty crunch, verdant green, and a depth of flavor throughout are the guidelines the Spider Roll follows leading to a classic dish. The Spider roll is a mixture of Soft-Shell Crab, a light meat that allows other flavors such as refreshing cucumber, and smoky-sweetness to complement a crunchy, fried texture.
If you are looking to be adventurous and enjoy briny or fermented flavors such as olives or capers, the Salmon Roe is a strong choice. The Salmon Roe has a subtle butteriness with a texture that pops in your mouth. The crispiness of the seaweed paired with the soft, fluffy rice and umami, or savory funk makes for a delightful, surprising bite. 
A tried and true classic, the yellowtail tuna sushi is a simple yet balanced combination of firm but tender rice paired with the softness and freshness of raw, never-overpoweringly fishy, taste. 
"As someone with dietary restrictions it is nice to have a lot of options when going to a sushi restaurant," said senior Elliana Kluherz. "It is nice to know when the food you are eating is fresh."
Throughout the depth and range of menu items with an emphasis on quality and authenticity, the friendly and hardworking staff combined with a personal obligation to fresh ingredients certify Sambi as a hidden gem.
Conveniently located a minute's walk away from Jesuit on 9230 SW Beaverton Hillsdale Hwy, Beaverton, OR 97005 in Valley Plaza, next time you are on the lookout for good Sushi, Sambi is your spot. 
About the Writer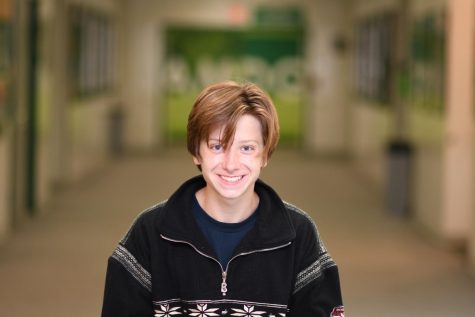 Gus Clevenger, Staff Writer
Storytelling is used to inspire and make people think about what was presented to them. To Gus Clevenger, a junior at Jesuit high school, storytelling is at the forefront of his life, through seeking out new adventures and finding creative ways to describe the world around him. As a young kid, Gus was surrounded with art and writing and never saw himself doing much of anything else. Through listening to his dad make up crazy stories about made up characters, to walking around OHSU and sitting through interviews of dental students with his mom, storytelling was always there. Although Gus has never had formal journalism experience, he participated in Speech and debate last year where he focused on challenging himself to write speeches that inspired him and has also participated in speaking competitions since kindergarten. Gus enjoys writing about the environment, sports, and food. He hopes to be able to not only strengthen his writing and storytelling but to also bring his speaking experience in creating podcasts or videos. In his free time, Gus enjoys running, drawing, going on long walks, and being with family.