Student-Organized Walkout Honors Victims, Demands Change
On May 26, Jesuit students participated in a nationwide walkout both in protest to gun violence across our country and in support for the community of Uvalde, Texas after May 24th's elementary school shooting killed 19 children and 2 adults. 
In a social media post created by one of the leaders of the Jesuit Against Gun Violence Club (JAGV) and today's walkout, senior Chase Kerman said the walkout was " a chance for Jesuit students to stand in solidarity and say that enough is enough–action is needed and we deserve to learn and live without fear." 
In Mary's Way after 1st period, Students and teachers joined Kerman and co-leader Kate Goddard to pray for all affected by recent acts of gun violence, learn of resources available to advocate for change, and honor the victims of the Texas shooting through multiple moments of silence. 
For junior Makende Stewart, Goddard and Kerman's reading of the victim's names was the most impactful part of the walkout.
"It emphasized all the individuals whose lives were selfishly taken, and it gave me time to reflect upon the fact that the majority of these victims were just children," Stewart said.
JAGV is organizing this year's National Wear Orange day for Jesuit students on June 1st. Students are encouraged to wear orange to raise awareness for all the acts of gun violence in America and demand future change. 
About the Writer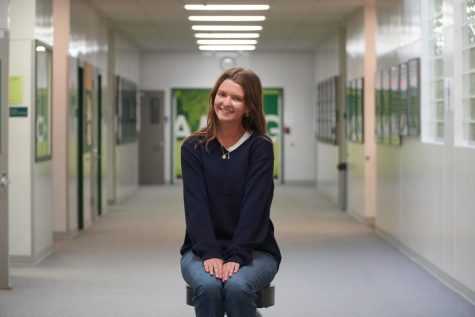 Lauren Herrick, Editor in Chief
Senior Lauren Herrick is a returning student from Journalism and a member of the editorial
board this year. Lauren enjoys producing feature and opinion pieces, collaborating with the team
to lead the development of the online and print paper, and enhancing her passion for the craft of
journalism through incorporating technology such as podcasts— check out the Sader Scoop,
which she co-founded and edits. When she's not writing, you can find her reading the
Wall
Street Journal
or listening to NYT's The Daily. Outside
of journalism, Lauren enjoys practicing
yoga, part-time baristing at a local cafe, spending time exploring Oregon with her friends, and
listening to a lot of country music. She's excited to help lead the Jesuit media program and
explore topics more in depth during her second year of the program.