Varsity Football Recap: Jesuit vs Skyview
On a warm Friday night, Jesuit took on Skyview to kick off their football season. With both teams having never played each other, it was bound to be an interesting matchup. 
The Crusaders started the game with a fantastic drive that led them down to the 4-yard line. Lonnie Burt finished it off by rushing it easily into the endzone, as Jesuit sprang out to an early 7-0 lead. 
After defensive stops from both sides, Skyview found themselves in a fourth down situation on Jesuit's 5-yard line. They tried to rush it through Jesuit's defense but were stopped just short of the first down. The first quarter ended with the Crusaders fully in control.
As the second quarter began, Jesuit continued their dominating offense with Payton Roth rushing for huge gains. After working their way up the field, Roth found a huge pocket of space and raced down the sideline for a 42-yard rushing touchdown. His exhilarating speed left Skyview's defense in the dust and gave Jesuit a fourteen-point lead. 
Yet, Skyview found a way back into the game as Jesuit fumbled the ball late into the second quarter. From Jesuit's 17-yard line, Jake Kennedy threw a deep ball that found Gavin Packer, who made an incredible catch in the endzone. The half ended with Jesuit leading 14-7. 
The Crusaders started the second half with suffocating defense that instantly forced Skyview to punt. Jesuit were only able to find a field goal on the drive after, which Kadyn Butcher easily dispatched from 27 yards. 
Jesuit started the fourth quarter deep in Skyview territory and found their third touchdown of the game as Lonnie Burt ran it in once again. With a 24-7 lead, the Crusaders seemed to have secured their first win of the season. 
Skyview refused to let up. With around three minutes left in the fourth, Kennedy threw a bomb down the field which found Gavin Packer who ran it all the way for a 70-yard touchdown. Jacob Hutchinson then tried to look downfield but threw an interception, turning the ball over to Skyview. 
Skyview made one final push to get back in the game, as Kennedy threw yet another touchdown to Jonathan Stronberg. It was not enough, as Jesuit recovered the onside kick and let the clock run down for a 24-21 win. 
Both Payton Roth and Lonnie Burt ran a combined 254 yards throughout the game. These dominant offensive players carried Jesuit to their first victory of the season, and fans will hope that they can continue putting up performances like these. The Crusaders start the season 1-0 and look to bring their best game to a tough matchup against Lakeridge next week.
About the Contributor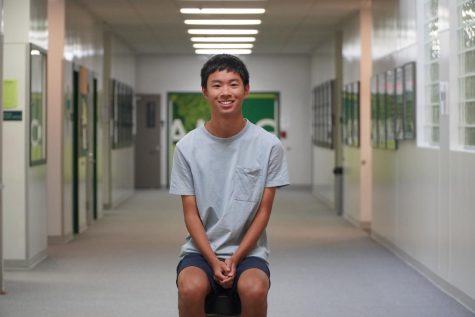 Justin Bian, Sports Executive & Editorial Board Member
Justin Bian is a senior at Jesuit High School and the Sports Executive for the Jesuit Chronicle. He has played soccer for eleven years, and piano for ten. Along with those hobbies, he likes to visit new places around Portland with his family on the weekends. Justin got interested in Journalism because of his older sister, Andrea, who was a staff writer a few years ago. Although his older sister's experience was a great motivator, the main reason he decided to join Journalism was because of his passion for sports. This year, he hopes to cover a variety of sports and write short stories about the games. He also looks to interview players, coaches, and fans, so that the Jesuit community can get insights on the sports teams. Justin would also like to pursue other forms of media, such as broadcasting and podcasts. He aims to bring relevant news around the Jesuit community based on current events on and off campus. At the end of the year, he hopes to have published many articles and have created lasting relationships with classmates and teachers.