Queen Elizabeth Dies at 96
Queen Elizabeth II has passed away at 96, according to a press release by Buckingham Palace. Elizabeth served 70 years–the longest career in the history of the UK monarchy.
Surrounded by family, the Queen reportedly died a peaceful death at her favorite estate, Balmoral Castle.
Senior Jordan Haines offered her perspective on Elizabeth's passing.
"I was shocked and saddened to hear the news, she was an influential leader and will be greatly missed," Haines said.
In June of 2022, Elizabeth celebrated her 70th year on the throne at the Platinum Jubilee. At the event she watched the parade and other festivities from her balcony.
The Queen met with the United Kingdom's new Prime Minister, Liz Truss on Tuesday September 6.
The morning before her death, Queen Elizabeth's doctors decided to place her under medical supervision due to concern about her health. As stated by BBC, her grandsons, Prince William and Prince Harry, stood by her side at Balmoral.
Theology teacher, Greg Allen, spoke about the Monarch's death.
"Queen Elizabeth was an incredible role model and left an impactful legacy that will be remembered for generations to come," Allen shared.
The Queen's son Charles, former Prince of Wales, will step into the role as King of England.
About the Contributor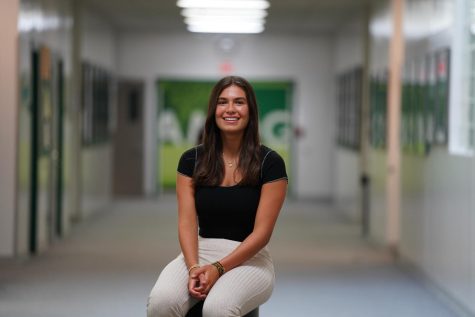 Alex Hawes Silva, Staff Writer
Alex Hawes Silva is a seventeen-year-old, Mexican-Canadian, student at Jesuit High School. Despite
her North American background, she spent the majority of her childhood living in Asia. For over
a decade, she lived in China, Singapore, and India. It was in those places that Alex first
discovered her love for journalism. In countries that were constantly buzzing with newsworthy
events, Hawes was enthralled by the hum of it all and was eager to share. What started with
writing in a journal every night turned into a passion that has seeped into every facet of her life.
Hawes often works in broadcast journalism, by announcing sporting events and editing film. She
has also created podcasts, articles, and put together a documentary on climate change. She
hopes to begin writing about global and cultural events as well as sports. In addition to
journalism, Hawes also enjoys playing soccer, camping, and traveling.