Getting COVID the First Day of School
It was late-start Tuesday, the first day of school, and I woke up with a burning sore throat. I had evaded COVID the entire pandemic, but after 10 seconds of a Covid, test, I knew I had it. Two little lines, and I was back to bed. 
I started laughing when I got my test back. Somehow, my sickness timed perfectly to happen on my first day of senior year. It seemed somewhat poetic to bookend my first "normal" year of high school with getting COVID on the first day. 
I had this weird idea that somehow I was immune to COVID simply because I had avoided it this long. I had been exposed time and again and still nothing. The  mystery of the whole pandemic was who got it, why, and when did people get it. 
Schools went back to normal: no masks, no social distancing, and no CAPPSCAN machine checking me in. It felt like COVID was gone, or at least out of view. If I chose to ignore the reality of a pandemic, then maybe it would go away. Out of sight, out of mind. 
On August 29 2021, there were 2203 average cases in Oregon of COVID, but there were 466 this year at the same time, according to  the New York Times. COVID is still spreading, but not as much.  
These thoughts all went away when I contracted COVID. Although my symptoms were mild, they weren't nothing. I had a sore throat, a little cough, and I was super tired. COVID is still very real, and is spreading in the community, but my classmates don't seem very concerned about it, and I wasn't either. 
The tricky part: there was no Zoom to join. The flexibility of last year and the year before was gone. Having COVID is also different from last year because I  had to wait 5 days before returning to school, regardless of my symptoms, yet there was nothing more than Canvas pages to keep connected.
We are in a weird period of treating COVID like any other illness, like a cold or allergies, and at the same time we treat it as a scary unknown virus, and I was not sure what to think either. 
As a community, during the height of the lockdown and pandemic, we praised the traditional school year and berated Zoom like there was no tomorrow, but did we abandon lockdown-policies too quickly or brashly? 
I think yes. 
With masks protecting us, and lunch tables spaced apart, and awkward Zoom meetings, we complained ceaselessly about how lockdown was the worst. Now, we are faced with the choice of more community interaction or increased contraction. 
I felt isolated from school when I got my result that Tuesday. I frantically emailed my new teachers, most of which had never even seen my face before, let alone taught me. If I would have had the resources that I did last year, the first week would have been easier. Some of my teachers didn't even email me back the whole week. 
Keeping a school community safe will benefit from students' being comfortable with staying at home when they are sick. Allowing students to work effectively from home and having easy communication with teachers would create better access for sick students. 
Continuing to bring the empathy that we had during the pandemic will continue to fuel a positive community. During the winter when colds and flus are also circulating, remembering how simple it was to stop transmission and returning to some small practices like masks, spacing, and mindfulness will make a big impact on keeping students healthy. 
About the Contributor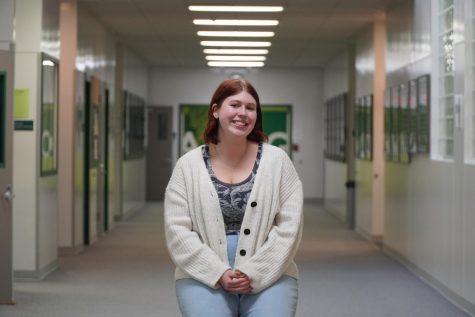 Allie Ruden, Editor in Chief
Allie Ruden is a senior at Jesuit High School and a second-year journalism student. Allie was born in Portland, Oregon, and is an only child. She has a labradoodle named Daisy who loves to nap and sunbathe.  In Allie's free time she loves to read, cook, and listen to all kinds of music. She loves to explore Portland with her friends. Her favorite places to eat in Portland are Bamboo Sushi, JoLa Cafe, and Grassa (highly recommended). Allie enjoys going to the beach, especially Manzanita and Lincoln City, and traveling all around Bend.  She loves writing and her favorite subjects in school are Journalism, English, and Spanish. Allie is interested in writing articles about music, pop culture, and the students and issues of the Jesuit community. She is excited to be able to write about what she is passionate about and delve into issues important to her. Allie is thrilled to be writing for
The Jesuit Chronicle
this year and is hoping to meet some new faces!