Chapter One, Reignited
Coming in as a freshman can be intimidating. With so many new faces, any opportunity to connect with classmates is valuable.
This is where Chapter One comes in. A long-standing Jesuit tradition, Chapter One's goal is to provide freshmen with the chance to get senior advice, get to know other freshmen, and play fun games in the process.
Jesuit's tradition of Chapter One got lost in the COVID craziness.
Mrs. Amy Contreras, history teacher and new Chapter One moderator, shared her experience.
"Watching the students take off in terms of leadership really is inspiring to me. It empowers the students and lets them know that this is their arena," Contreras said. "This is how they're going to build the culture of the school."
Campus Ministry Executive and retreat leader Mr. Don Clarke has led Chapter One for many years. This is Contreras' first year as a Chapter One moderator. While Clarke and Contreras support the students, Contreras stated how it is crucial for them to let the students take the lead.
This year's leaders are seniors Olivia Walton and Carson Ruggerio.
"I know freshman year is a hard time especially coming fresh off COVID to meet new people right out of eighth grade," Walton stated. "It's a good place for them to meet each other and form bonds."
Walton added how she made various friends from Chapter One when she was a freshman, which influenced her decision to take the lead in the reigniting of the meetings.
Freshmen and seniors should look forward to the Chapter One meeting in October. There will be a costume contest to look forward to some Halloween fun.
About the Contributor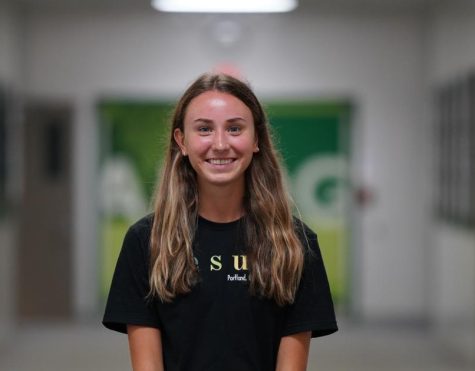 Aoife Gish, Staff Writer
Senior Jesuit High School student Aoife Gish is filled with curiosity, excitement and care for others in her community. Aoife is on the Jesuit women's soccer team and participates in track & field at Jesuit. She also is in her second year in student government. Apart from her involvement at Jesuit, Aoife is passionate about journalism. She enjoys editing videos, writing articles and is curious by nature, making her an enthusiastic interviewer. Aoife attended a selective writing workshop in seventh grade at Portland State University where she learned about varying writing techniques to improve her work. Being around sports her whole life, Aoife is intrigued to delve into the Jesuit sports scene as well as hearing from the Student Body surrounding current events at Jesuit. Aoife hopes to provide meaningful content so that the Jesuit community can ignite curiosity surrounding their school and find security knowing that Jesuit News is real news.