Varsity Football Recap: Jesuit vs. West Linn
Ahead of the Crusader's Thursday night football game against West Linn, senior Patrick Kelley felt optimistic.
"We're looking to ride high from the Lakeridge game and continue to get better every week. Hopefully this will be a good team, and hopefully a good game too."
West Linn took the ball to start the first half. They opened the game with a deep ball to freshman Willey Donnerberg. Washington State commit and senior quarterback Sam Leavitt then converted for a touchdown on his feet to put the Lions ahead 7-0 on the first drive.
The next possession the Crusaders attempted to strike back at the Lions but failed to convert a gutsy 4th down call deep in their own territory. This opened the door for Leavitt to connect on a end zone pass to senior Mark Hamper, putting the Lions at a 14-0 lead.
The Crusaders offensive line put together a solid looking drive, bringing them to West Linn's own 35 yard line, but failed to convert a critical 3rd and 6 again turning the ball over to the Lions. Both teams traded possessions throughout the first half until West Linn's Koffi Kouame was able to run in yet another touchdown for the Lions. 21-0. Jesuit's defense held off the Lions several more times in the 2nd quarter, only allowing West Linn to kick a single field goal.
At the half, the Lions seemed to be fully in control, leading the Jesuit Crusaders 24-0.
However, Jesuit was not done fighting. A few minutes into the 3rd quarter, senior running back Payton Roth broke free of a tackle to run 55 yards for a touchdown. The Crusaders soon found their way back into the red zone with Payton Roth again diving for the far edge of the end zone securing Jesuit's second touchdown of the game. However, a tipped kick prevented the Saders from converting the PAT. At the end of the quarter, Jesuit was starting to make a comeback only trailing the lions 24-13.
Jesuit put together good drives in the 4th quarter, but several missed opportunities left them with little time on the clock to close the score gap. To make matters worse, the Lions drained the clock and managed to score one more touchdown with an outstanding 27-yard run from senior Ben Winjum. This left the Crusaders behind 31-13 with 2:32 left on the clock.
Jesuit remained determined to strike back and put together an impressive 85 yard drive to score with only seconds remaining on the clock. Jacob Hutchinson connected with Jace Burton to score his only passing touchdown of the evening. The clock hit 0:00 with Jesuit losing to West Linn 31-20.
Patrick Kelley acknowledged the strong West Linn varsity squad.
"West Linn is definitely one of the best teams, but we know we can hang with them. We're just taking it week by week and hopefully we can see them again in the playoffs."
The Crusaders now begin preparations for another Thursday night football matchup in an away game against Sherwood.
About the Contributor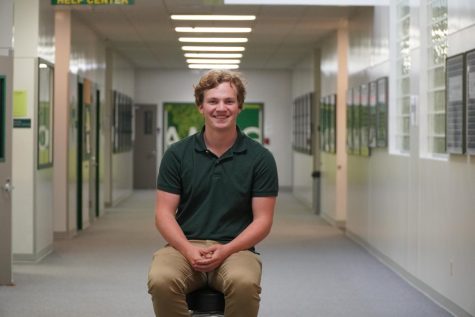 Clark Vowels, Executive Director, JCTV
Clark Vowels
is a Senior at Jesuit High School and
reports for the Jesuit Chronicle. He
has been pursuing videography and filmmaking for 6 years. When he was in 6th grade he took a
media studies course where he learned the fundamentals of videography and video editing. This
sparked a passion for video and he has continued to build his skills by becoming proficient in a
plethora of film and photo editing software. Recently, he has taken on the role of Executive
Director of JCTV, where he helps produce varsity sports broadcasts for Jesuit. Outside of school,
you will usually find Clark camping, mountain biking, skiing, and surfing in the beautiful pacific
northwest. This year he is particularly interested in broadening Jesuit Media's video journalism,
offering more ways to access stories from our team of writers. Clark also has played Football for
Jesuit through his Junior year, played guitar in the Jazz band for all 4 years of high school, and
continues to participate in Tech Theatre for every drama production. Clark hopes to build a solid
resume of videos to help him pursue his dream career of becoming a videographer for Red Bull
marketing.