New Teacher Q&A: Ms. Kalyansunder
Amuthra Kalyansunder is one of Jesuit's new science teachers this year. She will be teaching biology and environmental science. She has been teaching for five years, and has taught through many grade levels.
Before Jesuit she taught in her home country, India, and at a public school in Portland, Oregon.
She is excited to teach at Jesuit because of the supportive culture and overall friendliness of the staff and the students.
"So far what's struck me[…]is the culture is really nice, welcoming. […] I think the students give off the vibe that they really want to be in school" Kalyansunder said.
She speaks three languages including English, Hindi, and Tamil, a language spoken in the southernmost part of the Indian subcontinent.
For hobbies, Ms. Kalyansunder said that she enjoys watching cricket and tennis.
Her advice: Try to stay in the present and enjoy life as is.
"Live in the moment," Kalyansunder said. "…Don't stress about the future."
Full Transcript
How long have you been in teaching?
This would be my fifth year. I have been teaching for the past four years, although most of my teaching has been in my home country, which is India. I taught about a year of elementary school, a year of middle school science. My last two years were spent at a Cambridge School teaching high school biology. I taught three months at a public school in Portland. And this is my first year at Jesuit so this would be my fifth year.
What classes will you teach this year?
I am teaching three classes of biology and two classes of environmental science.
What excites you about teaching at Jesuit?
So far what's struck me is that the culture is really nice and welcoming. I think the teachers have been so nice and welcoming and they're not afraid to answer any questions. And I think the students also give off the vibe that they really want to be in school, they're happy, they're focused. So whatever I've seen so far, I'm liking.
What is something the community should know about you?
I can speak three languages. So apart from English, my mother tongue is [Tamil]. It's a language predominantly spoken in the state of Tamil Nadu actually named after the language which is in the southern part of India. And then the other predominant language is what people know all across India, which is Hindi. [For hobbies] I like sports even though I can't play. I enjoy watching cricket and tennis.
What is the best piece of advice you've ever received?
Live in the moment [or] something along those lines. Do not worry about the past. Do not stress about the future, because you have to take a breath and enjoy life. Even though it's hard it's going to be up and down. Just live in that moment and really experience that and don't look at the past always and don't try to predict the future. I think that would be the best advice I've received.
About the Contributor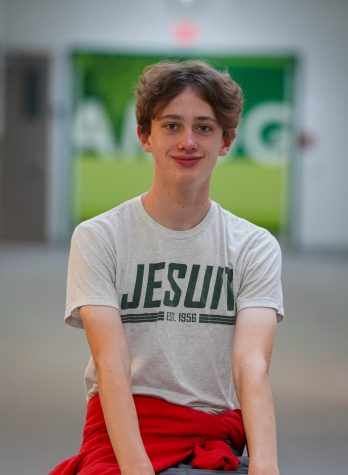 Seamus McCarthy, Staff Writer
Born and raised in Portland Oregon, this is Seamus McCathy's first year in Media Production, and he is
excited to start writing and producing media. He is excited to write about current events,
happening within the school and outside of the school including politics, school activities/events
and his current random subject of interest. He got the inspiration to take this class from the HBO
series,
The Newsroom
and classic movies such as
All
the President's Men.
He hopes that this
experience will help him to decide whether he wants to continue journalism throughout college.
When he is not in school, Seamus fences, goes for runs, and walks his dog. He lives with his
aforementioned furry companion, his brother, and parents in Portland.