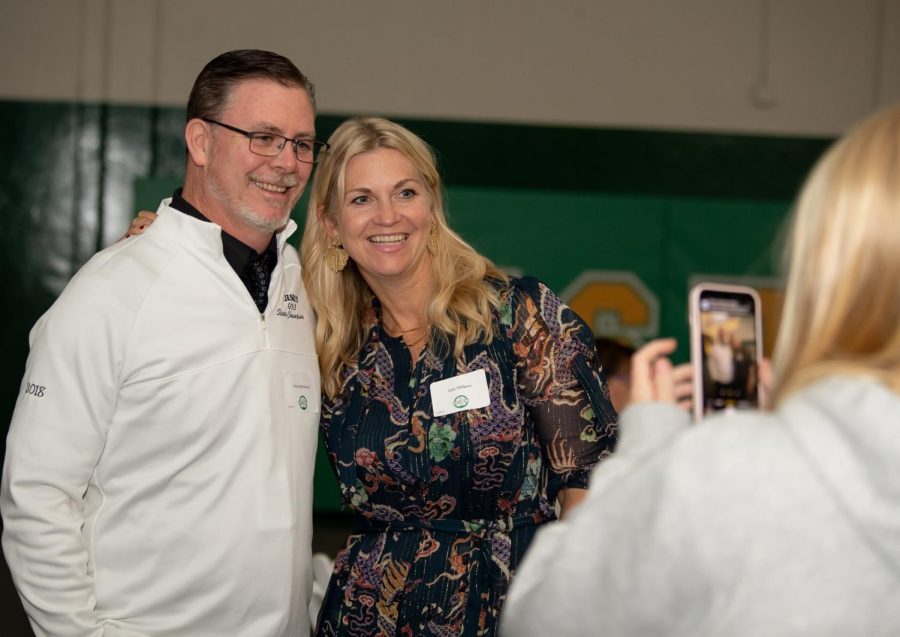 Katy Williams
Katy Williams grew up playing golf in Oregon, played in college at Wake Forest University, and, after graduating, played professionally for four years. Katy began coaching golf at Jesuit in 2003, won the Jesuit women's golf's first state title in 2004 and another in 2005. Just as she began her career coaching at Jesuit, Katy ended with back-to-back state titles in 2018 and 2019. Katy now has three daughters, two of which go to Jesuit.
Question: What are your fondest memories from your time here at Jesuit as a coach?
Answer: My fondest memories are the student athletes, the teams. I think one of the best things was that they had good leadership, and they would come together, they would come up with the goal, they would take ownership of that, and then they would run with it. And me and coach Reinhardt could just sit back. We would guide the ship a little bit, but when they were the ones that took the team and did what they wanted to do, set up their core covenant goals. And it's all that bonding that happens on encounters and retreats and seeing these teams bond over the years, it's probably one of my favorite parts just seeing them come together. I think it's a really neat thing because golf is an individual sport. So it's hard to see an individual sport where it's just you and the golf course and the score versus the team coming together and really celebrating each other. I think winning state championships was really amazing. I want to say probably the last one we won was a fond memory. Because they had to repeat and there's so much more pressure on you when you're the team that everyone wants to beat and they pulled it out. I think just the people that I've met in the Jesuit community, the administration, Mike Hughes, Martha Cope, Konrad Reinhardt and watching him in his passion for his students and his student athletes. That's a fond memory of getting to know him and the friends that I've made. 
Question: Can you tell us about those teams that won the state championships in 2004, 2005, 2018, and 2019?
Answer: One thing that wasn't mentioned, they were the very first team to win a state championship in golf for Jesuit. And that was an incredible team because they just dominated for the year. I don't know how many shots they won by but I want to say more than 20 shots. The 2018 team, that was an upset. They upset Westview that year and that was an incredible team. You look at the two teams on paper. Westview was the better team, they had girls shooting 65 or 66, which in golf that's seven or eight under par. For women in Oregon, that's really, really good and you've never seen that. And that 2018 Team broke the Oregon State scoring record. They shot I believe 300. And then they followed it back the next year in 2019. They were 20 shots behind the second day and then front nine alone, they not only bridged the gap, but then they ended up winning by 15 shots. So, they were an incredible comeback team with a lot of pressure and there were five seniors on that team who were incredible leaders and teammates and competitors. 
Question: Obviously you have so much passion for the sport and for your teams. How are you personally feeling about being inducted into the Hall of Fame?
Answer: Well, I'm humbled and I'm very honored. I think being in the room, listening to the other videos and the other recipients. Liz Brenner. I mean, she's one of the best athletes not just at Jesuit but probably in the state of Oregon. To be a five time all American is pretty amazing. And I think I'm just extremely honored. I Jesuit does things really well, whenever they do something, they do it really well. And the fact that they're doing an assembly with the student body and now we have this wonderful ceremony. It just talks about the care and love that they put into people that serve in their community and I'm humbled that I get to be involved with this group. You know golf is an off campus sport, so we're sort of out of sight, out of mind. We don't have a lot of people dressing up for neon days on the golf course, so to be honored and to have that program honored is really meaningful. 
Question: Do you have any closing thoughts?
I just want to say a massive thank you to Konrad Reinhardt because he really was my partner in crime for so many years, and I feel like he could be standing right here getting the award with me. So I have a lot of gratitude towards him and to Mike Hughes and Martha Cope in the athletic office. Being a coach having an athletic director who has your back, whether he's at an OSAA meeting, talking about golf and rules, and knowing that we have a voice with our athletic director in the bigger stage of sports in Oregon is huge. I couldn't have done my job without Mike and Martha and the booster club paying for green fees. Golf is a really expensive sport. I couldn't have done this without the administration and the Jesuit athletic department.
Mr. Reinhardt, an English teacher here at Jesuit, coached the golf teams with Katy for 13 years. He gave his thoughts on coaching with Katy and how their friendship continues today. 
Question: What do you remember about coaching with Katy?
Answer: I remember the walks and the talks. When the team is playing in competition, we're not allowed to talk to him, except for when the ball is out of the hole before they put it on the peg and into the next hole and only one coach is allowed to talk to them. And during the qualifying, we also don't want to be messing with them. So there were a lot of times where she and I would talk about dynamics of the team, how the girls are doing, possibly in the classroom, possibly in life. I remember the walks and the talks the most with Katy. I think we solved all the world's problems on those walks.
Question: Now that you two aren't coaching together, do you still stay in touch?
Answer: I have her middle daughter in my English class. I call lines for volleyball, and her eldest daughter is on the varsity squad there, so she shows up to every game and we get to talk about that. And when it comes around golf season, inevitably we will go out and have coffee or have a chance to get together and just reminisce. Some of the girls that have been on the team in the past will get together with us, and we'll go meet as many as we can. We go out for brunch. We actually went to Top Golf one time. There's about 14 girls from all the different years who show up and they're in different stages of their life, like married, having kids or finishing up grad work and whatnot. So yeah, we see each other on a very regular basis.
Question: How do you feel about Coach Williams being inducted into the Hall of Fame?
Answer: I think it is absolutely amazing. She is such a perfect model of what it means to give of yourself to something larger than yourself. The way that she worked with the girls in a game that you beat yourself up so much. It's the only sport that you call penalties on yourself. And the fact that she was so good at working with the girls on self confidence that transcended the golf course. I'm going to happily see that picture every single time I walk past it and think about how good she was.