A Favorite Treat is Rolling Back to Jesuit
Will the Jesuit tradition of yummy, gooey cinnamon treats be making a comeback this year?
For as long as most experienced students can remember, cinnamon rolls have been a crucial part of Jesuit: delicious treats served on Wednesday are a symbol of hope to get students through the school week.
"I remember during my shadow day at Jesuit, I was here on a Wednesday and I got a cinnamon roll. It was probably the best roll I ever had. I really miss them," senior Piper Daskalos said.
When COVID struck, cinnamon rolls were taken out of Jesuit's hot lunch menu. Many assumed this was because of COVID restrictions: mask mandates, 6-feet distance, and zoom classes. Now that the school has fewer restrictions, it seemed likely that cinnamon rolls would return. However, it now depends on other factors.
Mrs. Clauson, Director of Food Services, detailed the supply issue regarding cinnamon rolls.
"It was not so much the COVID restrictions, it was more the supply issues," Clauson said.
Getting cinnamon rolls to Jesuit has been a challenge. The rolls themselves, frosting, and other materials needed have not been easily accessible since COVID.
"Selling smaller [rolls] would require less frosting and materials, so this may be a solution due to the lack of supply we are getting," Clauson said. "We also do not have as many volunteer cooks in the kitchen as we did pre-COVID, so it is hard to find extra people to bake the rolls."
Another issue regarding the return of the rolls is the amount of room needed to store the cinnamon rolls in the Jesuit cafeteria.
"We get all the food delivered at the beginning of the week, and must store it throughout the week. We only have so much room to store each thing, causing there not to be a lot of leftover room for things like cookies and cinnamon rolls," Clauson said.
The cost of the rolls is also something that the lunch staff has to consider while planning the cinnamon rolls' return.
"Depending on what brand we chose to use for this year, the cost could shift," Clauson said.
The comeback of cinnamon rolls will be tricky, but not impossible. The Jesuit lunch staff is pushing for this return because they know cinnamon rolls are a loved tradition. While solutions such as smaller size or only selling them once a month will most likely occur, students will find solace that the return is coming. We do not know for sure when this will be, but it is indeed on the horizon.
About the Contributor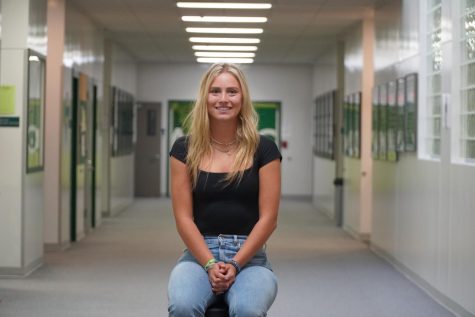 Skylar Bordonaro, Staff Writer
Skylar Bordonaro is the youngest child coming from a family of five. From being the youngest
child, Skylar learned a thing or two about patience and hard work to prove herself. She also
learned how to blaze her own trail and follow what she loves. This is what drew her to
journalism. Wanting to do her own thing led her to journalism and writing. She loves the art of
expressing herself through writings. In her writings, Skylar explores topics that have a sense of
humor such as the debate of cinnamon roles at Jesuit or if your horoscope is really comparable
with others. Skylar also touches on subjects that can help the world and community, such as
doing a mental health column. Outside of school, she enjoys hiking, drinking matcha at The
Coffee Shop, yoga, and reading. She does activities that include a mix of being an introvert and
extrovert. Lastly, Skylar has a huge love and passion for animals.