Hurricane Ian
Last week, on Wednesday, September 28th, Hurricane Ian made landfall in Florida. Upon landfall, this hurricane was a level 4, which earns categorization as a major hurricane with wind speeds ranging from 130-156 mph. 
Hurricane season occurs from June to November; so Florida experiences many hurricanes each year. However, according to the New York Times, Hurricane Ian came ashore as one of the strongest storms to ever strike Florida. 
Some consequences of a hurricane this size include storm surges, major flooding, and loss of power. According to CNN, as of Thursday, over 1 million people had already lost power due to the storm. 
Though Hurricane Ian has moved on from Florida, the state is still in danger of flooding and storm surges. Residents be cautious if they are to stay safe. 
This catastrophic event has already ruined countless homes in Florida and threatens to do the same to other states as it moves up the East Coast toward Georgia and South Carolina. 
In anticipation of the storm, Charleston County declared a state of emergency before Ian  is expected to make landfall, including closing the Charleston airport. 
As Hurricane Ian moves across the southeastern corner of the United States, the damages caused highlight how climate change and natural disasters can also be a matter of inequality. 
Theology teacher Dr. Price mentioned how poorer communities can be affected more harshly by natural disasters. 
"One of the first things that comes to mind for me during natural disasters is how they tend to shine a light on inequality. Just to prepare adequately for an impending natural disaster can be expensive," said Dr. Price. 
Not only can preparing be expensive, but rebuilding after the disaster can cost even more. For poorer communities, recovering after Hurricane Ian could throw them even deeper into poverty. 
Previous hurricanes, such as Hurricane Harvey cost $128 billion in damages. (JCHS). The communities affected by hurricanes will not only have to spend that much money to rebuild, but they will have to deal with the aftermath of the hurricanes for many years to come— more time for the wealth gap and inequalities to become more prevalent. 
"I think natural disasters remind us of our Christian call and duty to build a better, more just world as Jesus taught," said Dr. Price. 
Junior Sydney Leslie offered her opinion on how the Hurricane calls us to invoke the Jesuit values taught at our school. 
"Tragedies like this help us remember that as men and women for others can support others around the world," said Leslie. 
Hermann, Alexander. "How much will homeowners spend to rebuild & repair after Hurricane Florence?" Joint Center for Housing Studies , 24 Sept. 2018, www.jchs.harvard.edu/blog/how-much-will-homeowners-spend-to-rebuild-repair-after-hurricane-florence. 
About the Writer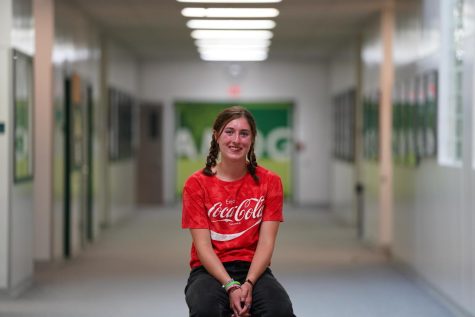 Natalie Jack, Staff Writer
A senior at Jesuit High School,
Natalie Jack
has always been interested in storytelling. Though she has never taken a Journalism class, she is very excited to learn all the aspects of journalism, including storytelling and interviewing. Natalie is interested in writing articles that tie into her life as a runner on both the track and cross country teams, as well as writing other opinion pieces. She believes that it is incredibly important to share well-informed opinions with the general population. In school, her favorite subjects include English and History. Outside of school, Natalie loves spending time drawing and working on her various art projects. Recently, she has begun a series of mini-paintings of landscapes around Oregon that showcase its natural beauty. She also enjoys spending time with her friends and family.