Women's Varsity Soccer Recap: Jesuit vs Southridge
Jesuit easily breezed past the Southridge Skyhawks in their second Metro League game. 
After beating Westview 4-0 last Thursday, the Crusaders looked to continue their dominance. The Skyhawks hoped to grab a win with a record of 3-2-3. 
As the game began, Southridge put early pressure on Jesuit's backline. The Crusaders weathered the early storm and slowly built themselves into the game. 
Around ten minutes into the half, Jesuit took the lead. Claudia Rose played the ball through to Mariane Dunne, who easily dispatched her shot into the bottom right corner. 
Soon after, the Crusaders scored another after Abby Cox dribbled through multiple defenders before placing a composed shot into the left corner. 
Jesuit continued to press on and found their third. Rose saw two of her shots denied before tapping the ball in on her third attempt. 
Just a minute before the half, Josephine Frischknecht scored the Crusaders' fourth goal. Dunne used her speed to break down the line before playing an unselfish ball across the goal to Frischknecht who tapped it home. With a 4-0 lead at the half, Jesuit were easily cruising over their opponents. 
When the second half started, the Skyhawks had newfound energy and began to play with greater intensity. They soon cut the lead to 4-1 after heading the ball in from a cross. It was a well-crafted goal, and only the third that Jesuit has conceded all season. 
Senior Jordan Haines talked about the impact of giving up a goal with a typically formidable defense. 
"Conceding happens sometimes," Haines said. "I think it was just a lack of organization, but we can fix that pretty easily." 
Jesuit continued to create chances throughout the half, but fantastic saves from the Southridge keeper kept the lead to three goals. Cox and Dunne were denied on multiple occasions in search of their second of the game. 
The game ended as a 4-1 win for the Crusaders. They are currently 10-0 overall and 2-0 in Metro and hope to continue their undefeated streak against Aloha on Thursday. 
Haines discussed how the win will be important for the rest of the Metro League. 
"We're feeling really strong this year, and hopefully we can get some more wins in Metro," Haines said. "These games will help us continue to grow."
Solid Defense
With only 3 goals conceded in 10 games, Jesuit remains one of the toughest opponents to go against. Eva Grunkemeier and Sophia Stiles continue to lead the Crusaders in the back. They look to build off their seven clean sheets so far this season.
About the Contributor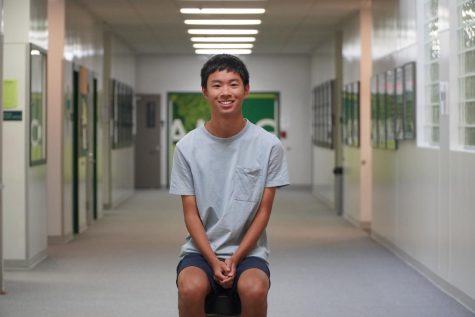 Justin Bian, Sports Executive & Editorial Board Member
Justin Bian is a senior at Jesuit High School and the Sports Executive for the Jesuit Chronicle. He has played soccer for eleven years, and piano for ten. Along with those hobbies, he likes to visit new places around Portland with his family on the weekends. Justin got interested in Journalism because of his older sister, Andrea, who was a staff writer a few years ago. Although his older sister's experience was a great motivator, the main reason he decided to join Journalism was because of his passion for sports. This year, he hopes to cover a variety of sports and write short stories about the games. He also looks to interview players, coaches, and fans, so that the Jesuit community can get insights on the sports teams. Justin would also like to pursue other forms of media, such as broadcasting and podcasts. He aims to bring relevant news around the Jesuit community based on current events on and off campus. At the end of the year, he hopes to have published many articles and have created lasting relationships with classmates and teachers.