Voices from the Crowd: Townsend Powell
Comforting, patient, dad-like, kind–all words to describe Townsend Powell.
Powell is a born and raised Oregonian, although he has spent time visiting Spain and Britain. He attended St. Anthony's for all of elementary and middle school, and is now a junior at Jesuit.
After J-High, Powell hopes to use his passion for technology to work for the government.
"I want to potentially work for a private company via cyber security, or maybe work for the government. Something in computer science would be great," Powell said.
In his free time, Powell enjoys a balance between relaxation and activity, as he shares his joy for manga, Japanese comics, and playing video games with friends.
Powell also enjoys the gym, which benefits him when running the 100, 200, and sometimes throwing shot put, for his club track team ITC.
As much as Powell enjoys fitness now, it hasn't always been as natural to him.
Through dedication and grit, Powell motivated himself and friend Cole Chabot to start going to the gym.
"[Powell] inspired me to better myself, especially physically," Chabot said.
After his hard work, Powell can now bench an impressive 225lbs.
Besides being a great training partner, Chabot recalls how the two kindled their relationship in eighth grade through their love of video games.
"It was because the Christmas before, I got a PS4 and we started playing together. I ended up spending half of the month of August at his house, so we were constantly hanging out with each other…Since then, we have become really close friends," Chabot said.
Besides making an impact on Chabot's life, Powell positively impacts those outside of his inner circle, as he makes it easy for people to open up to him.
"Something about his presence really comforts people and they feel like they can trust him," Chabot shared.
Powell is known as a reliable friend, as he always comes through for those he cares for, demonstrating his "dad-like" demeanor. He is the friend who cheers others on at their sports games, gives anyone a ride, and is always in their corner.
Powell encourages others to step out of their comfort zones and meet new people, as it will not only bring you joy, but others.
"Branch out to a lot of new people, talk to people you don't really think you would normally talk to, because everyone has their own stories and everyone is really interesting. It is really cool to learn from different kinds of people," Powell said.
About the Series:
Walking in the crowded halls of Jesuit High School, students breeze by hundreds of fellow teenageers, most of the time not even knowing the person next to them. Ignoring any desire for inquiry, students go about their day without knowing classmate's unique personalities, quirks, and most importantly, stories. But why?
We see fellow Crusaders on the crowded Arrupe staircase, cafeteria line, vending machines, and next to you in class, approximately 42 weeks, 210 days and 1,696 hours a year. So why not get to know them?
In hopes of connecting with our community, in the new "Voices from the Crowd" series, students from around Jesuit will be featured, sharing their story. These students aren't J-High's 5 star athletes, or national competing mathlete, but rather students who contribute to our community in great ways that aren't always recognized.
Learn more about fellow Crusaders by following along to the "Voices from the Crowd" series.
About the Contributors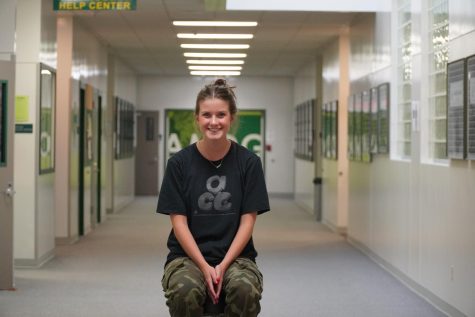 Brynn Ensminger, Staff Writer
B
ig-hearted.
R
eliable.
Y
outhful.
N
ice.
N
utty. All words to describe
Brynn
Ensminger. Brynn is a senior and will be joining the Jesuit media team for her first year. Brynn has always had a passion for writing, as she feels it is a wonderful way to express herself. She is most passionate about writing pieces on the issues many teens face, in hopes of connecting students with one another. Her experience in understanding teens comes from living with her three brothers. Brynn has two older brothers who graduated from Jesuit in 2021, as well as a younger brother who is a freshman. Along with talking about the struggles of high school, Brynn hopes to be the voice of one of Jesuit's podcasts, as she loves to chat! Discussing celebrity, school or any other drama, she is here for it. When she's not in the classroom, you can find Brynn playing soccer, lacrosse or even singing some karaoke. Although she's not the best singer, she sure knows how to put on a show! Brynn looks forward to learning more about media and further developing her leadership, inquiry, and communication skills.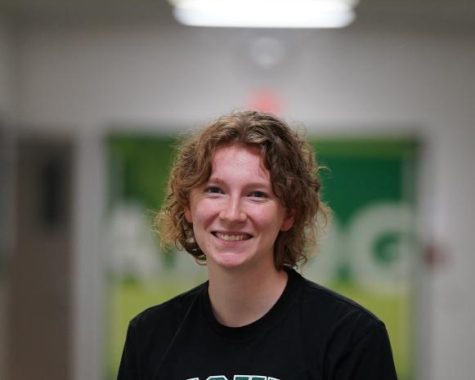 Caitlin Thomas, Staff Writer & Photography Editor
Curious, driven, and open-minded, Caitlin Thomas is an active member of the Jesuit community. She is involved in student government, women in sports club, and the ambassador program. Caitlin developed her interest in media taking photography class her junior year. She enjoys unique projects like fashion photography, senior photos, and focusing on capturing a subject's personality in her pictures. You'll find her with her camera at many Jesuit events capturing the unique, diverse community. Thrust into the spotlight, Caitlin interviewed 4 Jesuit students dressed as bananas at the Homecoming Football game while filling in for a sideline announcer at the last minute. This chance interaction launched her excitement in discovering passions in journalism and JCTV. She plans on reporting current events and Jesuit student interests. Caitlin loves being involved at Jesuit and in the greater Portland community, volunteering at Blanchet House and co-founding the non-profit Handle With Care PDX. Outside of school, she enjoys reading, working out, and traveling. She also enjoys exploring Portland's thrift stores and vegetarian restaurants.