Podcast: The Sader Sound–Autumn Albums
Fall is officially underway, and so is the cultivation of a perfect fall soundtrack. Here are our picks for the perfect autumn sounds:
Tanisha Chetty's Picks
So Tonight That I Might See – Mazzy Star
Mazzy Star's gentle dreampop sound immediately draws on the feeling of warm apple cider and cozy sweaters. The mellow guitar and melancholy lyrics effortlessly create a beautiful soundtrack perfect for yearning and hibernation preparations.Their most recognizable song "Fade Into You" is the opening track from this album and was also featured in the show Gilmore Girls.
Key Track: Fade Into You
Cult Survivor – Sofie Royer
Perhaps the most underrated artist on this list, Sofie Royer presents a dreamy indie album filled with broody synths and hazy vocals. The production of songs like "Guest" and "Hollywood Walk of Fame" are perfect examples of the infectiously catchy beats present throughout the entirety of Cult Survivor. This album is a contradictory masterpiece, managing to be both wildly groovy and gloomy, making it perfect for the finicky autumn season.
Key Track: Guest
Either/Or – Elliott Smith
While all of Elliott Smith's albums feel like the colder months, Either/Or feels especially autumnal. The singer/songwriter's acoustic guitar and whispered crooning about themes of change and isolation really bring out all the fall feels. Some of his most well-known songs from Either/Or, like "Between the Bars" and "Say Yes", were also featured on the soundtrack for Good Will Hunting.
Key Track: Between the Bars
boygenius – boygenius
Although indie pop is often summer music, the band Boygenius–comprised of Phoebe Bridgers, Lucy Dacus, and Julien Baker–firmly delivers on the fall vibes with warm guitar chords and agonizing lyrics about so much heartbreak. It's a given that any project made by this indie powerhouse trio would sound amazing, but the boygenius album is especially perfect for wallowing in coming-of-age angst during the start of a new school year.
Key Track: Bite the Hand
Just Another Diamond Day – Vashti Bunyan
The lilting folk album Just Another Diamond Day sounds exactly like baking apple pie and receiving a loving, grandmotherly hug. This 70's album holds up remarkably well over 50 years later, creating a perfectly cozy autumnal atmosphere. Bunyan's soothing voice and quirky instrumentals paint the perfect picture of fall foliage.
Key Track: I'd Like to Walk Around in Your Mind
I Can Hear the Heart Beating as One – Yo La Tengo
With this indie alternative album literally including a song called "Autumn Sweater", it's no surprise that I Can Hear the Heart Beating as One is widely considered to be a quintessential fall album. Songs like "Sugarcube" and "My Little Corner of the World" feature a refreshingly upbeat production perfect for romanticizing a joyful little autumn walk.
Key Track: Autumn Sweater
Masterpiece – Big Thief
Singer-songwriter Adrienne Lenker, Big Thief's lead singer, is blessed with a wonderfully unique voice and a mastery of story-telling, as highlighted in "Paul" and "Velvet Ring". This album is a beautiful amalgamation of indie, rock, and folk, perfectly punctuated with guitar instrumentals that no one can resist nodding their head to. Masterpiece's tender sound creates the perfect atmosphere for relaxing in your comfiest fall sweater.
Key Track: Real Love
Red (Taylor's Version) – Taylor Swift
Last on the list, but certainly not least, is Taylor's Swift's Red, an iconic pop soundtrack for fall. Swift sings boldly about the heartbreak that follows a fleeting summer love, adding her classic Taylor Swift flair that has established her as such a pervasive artist. Whether actually recovering from heartbreak (my condolences) or simply looking for some autumnal pop, Red is a worthwhile listening experience.
Key Track: Red
Honorary mention to the soundtracks of the Twilight movies (especially New Moon) and the Glee mashup "Thriller / Heads Will Roll".
Nolan Petrin's Picks
"That's The Way Of The World," by Earth Wind and Fire.
The album was released on March 15th, 1975 by Columbia Records. The genre is R&B, soul, and funk. Album length is 38:23 with 8 tracks. The album was 1975 #1 soul album (billboard) and won the Recording Industry Association of Americas triple platinum award with over 1 million sales. The album really has it all, and is the best album out of all 5 in my opinion. Very fast paced funk in
"yearnin learnin", and finishing with a smooth, powerful, and gospel-like "see the light."(start at 1:20)
Mild High Club's "Timeline"
Released on September 15th, 2015, the genre is Alternative/indie similar to Mac demarco, but more low key. Timeline is simple, with very fluffy, elegantly mixed songs that flow together naturally. Psychedelic indie group led by Alexander Brettin. He has been making music since 2013 with 3 albums, and produces with King Gizzard and the Lizard Wizard. My favorite song is "Timeline."(start at 0:50)
"Plastic Beach" by the Gorillaz,
Released on March 3rd, 2010 under Virgin Records in the US. The length is 56:46 featuring 16 tracks. The Genre is pop, hip-hop, and electronic. The album had good reception in 2010 reaching 2nd on US billboards 200 and platinum sales in the UK. The songs are rich, vibrant, detailed, and elegantly flow together creating a wonderful listening experience. My favorite song is "Welcome to the world of the plastic beach," (start at 1:15)
Alan Parsons Project "Eye in the sky."
The album was released in June of 1982 by Arista records. The genre is soft rock/progressive rock, and the album is 42:30 with 10 tracks. 'Eye in the sky" Hit 7th on US billboard 200 and ended the year at 76th, and won a platinum award with over 1,000,000 sales in the U.S alone. Alan Parsons helped produce "the dark side of the moon" alongside Pink Floyd. The album is very melodic and pretty, but is a little cliche in my opinion. Although I find to appreciate this old style of cliche. My favorite song is "psychobabble" (start at 0:48)
"In the Shower," by Home Shake
Released on August 7th, 2014 by sinderlyn records. The album is very laid back, and great for listening when you are driving, doing errands, or just feeling bad. The genre is indie/alternative and the album features 10 tracks, and the length is 27:08. My favorite song is "home at last" (start at 0:25)
About the Contributors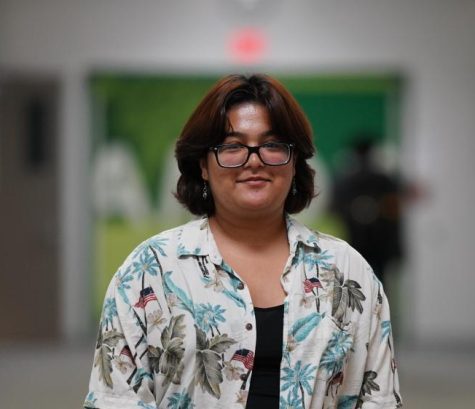 Tanisha Chetty, Staff Writer & Podcast Producer
Tanisha Chetty, a senior at Jesuit High School and first-year contributor to the Jesuit Chronicle, is
excited to branch out and experiment with new journalism skills. While she doesn't have any formal
journalism experience, she enjoys critically engaging with the community around her, and she holds a lot
of love and excitement in her heart. Tanisha is a student leader of both ethics bowl and book club and
participates in Jesuit's Chamber Choir. She has a dog named Jupiter. Her go-to coffee shop order is an
iced chai latte, but her incredibly charming and humorous personality rarely needs the caffeine
supplement. In addition to writing, Tanisha loves all things music, movies, and books. She hopes to write
articles about interesting media, social issues, and events within the Jesuit community.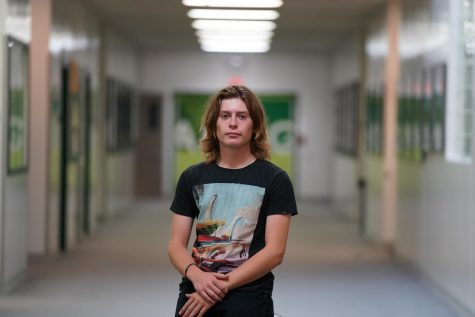 Nolan Petrin, Staff Writer & Photographer
His name is Nolan Petrin, he is an amature photographer who is excited to work with others in
creating high quality stories. His aspiration for photography only started last year, enrolling in Mr.
Falkner's photography class. His passion for photography grew as he began integrating it into
his own hobbies. Stories he wants to write are news stories around the school and getting
interviews from staff on policy changes. He is also interested in following niche clubs and
sporting events that many of the Jesuit community may not know about. His favorite
photoshoots have been on the water at sailing regattas, and at the beach while surfing. Sailing
photography has become a growing hobby of his, taking out boats single-handedly on the
Columbia to get photos of sailboats racing on a course. Nolan hopes to make an impact through
his voice and pictures he produces, creating emotion off of excitement.