Athlete Spotlight: Siobhan Sullivan
Senior Siobhan Sullivan has been fencing since she was eight years old.
In fencing, points are tracked electronically, and the amount of times the saber hits the opponent's lamé (a garment made of cloth and metal) is represented as "touches".
As a little girl, Siobhan watched female American saber fencer Mariel Leigh Zagunis in the Summer Olympics, and was immediately enthralled.
Sullivan noted that the sabers were "like Star Wars."
The talented athlete's love of Star Wars and the Summer Olympics ignited her fencing career. She initially started fencing at a summer camp, and only two years later, graduated to the competitive level at age 10.
In her many years competing at the highest level, Siobhan has been to ten countries. For fencing competitions, Sullivan has traveled to Hungary, Bulgaria, France, Poland, Spain, Turkey, Dubai, Tunisia and Italy. She is planning to compete in Algeria this October.
Sullivan's passion for fencing goes beyond wins and losses.
"It's kind of like a game. You get to make your own moves. It's like an art," Sullivan said.
Along with her love for the sport, Sullivan also showed appreciation for her teammates and coaches that have helped her along the way, mentioning that the people in her fencing community make it worthwhile.
A typical day for Siobhan includes two to three hours of training, including tactical workouts, footwork and cardio.
Siobhan is currently ranked 12th for all senior women's fencing in the United States, third in the United States and 6th in the world for the under 19 year-old division. She is hoping to reach the top 4 to clinch a spot at the Summer 2024 Olympics in Paris.
Until then, Sullivan's hard work will follow her to Notre Dame, where she will fence at the Division 1 level.
About the Contributor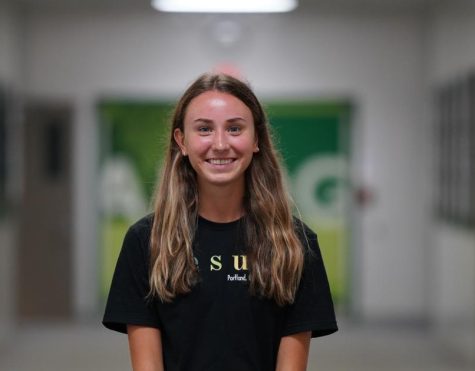 Aoife Gish, Staff Writer
Senior Jesuit High School student Aoife Gish is filled with curiosity, excitement and care for others in her community. Aoife is on the Jesuit women's soccer team and participates in track & field at Jesuit. She also is in her second year in student government. Apart from her involvement at Jesuit, Aoife is passionate about journalism. She enjoys editing videos, writing articles and is curious by nature, making her an enthusiastic interviewer. Aoife attended a selective writing workshop in seventh grade at Portland State University where she learned about varying writing techniques to improve her work. Being around sports her whole life, Aoife is intrigued to delve into the Jesuit sports scene as well as hearing from the Student Body surrounding current events at Jesuit. Aoife hopes to provide meaningful content so that the Jesuit community can ignite curiosity surrounding their school and find security knowing that Jesuit News is real news.