2022 IFTJ Conference Marks Students' Return to Advocacy in D.C.
20 Jesuit upperclassmen will be traveling to Washington, D.C. this weekend to take part in the first in-person Ignatian Family Teach-In for Justice conference since 2019.
Jesuit students have been attending the conference since 2000, but the event has widely evolved since then.
"It looked very different back in 2000," Director of the Arrupe Center for Justice Ms. Andrea Casey said. "[The conference] has grown into a larger event, moving out of Georgia to eventually being right near the Capitol in D.C."
This year, the Teach-In participants are enthusiastic to be back on Capitol Hill instead of Zoom, where the event was held for the past 2 years due to pandemic restrictions. For senior and IFTJ student leader Benjamin Wieser, the conference's location in D.C. is a crucial part of the trip. 
"That's where all the power is," Wieser said. "The ability to get a group of passionate individuals together to research issues, and to go and advocate where the policies are made, is an extremely empowering experience."
The Teach-In's mission is to learn, pray, and advocate for justice, all within a lens of Jesuit values. Students attend a variety of workshops on issues centered around different focuses for justice, connect with 2000 peers from across the country, and get the chance to meet with their state representatives to advocate for changes based upon what they have learned during the conference.
Casey believes it's beneficial for Jesuit High School to partner with the conference based upon its distinctively Ignatian focus.
"There's something really special about coming together with other Jesuit schools, and recognizing that all the advocacy work we all do is rooted in our common mission and identity," Casey said.
To prepare for such an immersive weekend, students involved in IFTJ commit to weekly meetings on Tuesday mornings. The meetings ensure they are prepared for participating in workshops, articulating complex ideas to present to Oregon politicians, and versed in the conference's content matters.
"We want to build community within our team, and just get a chance to know each other better," Casey said. "Additionally, to create a space that's conducive to having respectful, meaningful dialogue and entering conversations about really important social justice issues."
The IFTJ community is led by student leaders Benjamin Wieser, Alondra Nieves-Alvez, and Veronika Lizier-Zmudzinski. This leadership team has been organizing meetings to help prepare for the trip since this summer.
Nieves-Alvez is looking forward to building upon the education on migration justice she was able to cultivate this summer on her Christian Service project, the Kino Border Immersion trip.
"Migration is something that makes up who I am," Nieves-Alvez said. "But something that Kino taught me is that I don't have a full understanding of the picture on migration justice. That made me realize I'm going to know even more than what I know now about migration after this experience, and that's making me excited."
Similar to Nieves-Alvez's mindset on how she anticipates her knowledge on justice developing at IFTJ, junior Mary Pearl Haney is focusing on using the trip as an opportunity for thoughtfully discerning topical subjects.
"I like learning about hard issues," Haney said. "You're supposed to feel uncomfortable. I feel like that's what creates a lot of room for growth in knowledge."
Haney additionally has significant experience with this coming weekend's itinerary— she attended the virtual Teach-In last year.
"It was a very formative experience," Haney said. "But I think this year will show me more of what the Teach-In is all about."
Haney, Nieves-Alvez, and Wieser all shared enthusiasm for one part of the weekend in particular— Advocacy Day.
After gathering together to listen to final testimonies from keynote speakers and wrap up their discussions, the students will disperse to go out to offices where state representatives and members of Congress are waiting to meet with them to discuss areas for implementing justice-oriented policies in their home states. Advocacy Day is the last day of the conference, where the students' attention and engagement with each other and the workshops blend together to create political action.
But Jesuit's participants aren't quite done after that.
"We're planning on potentially going to another conference in spring up in Washington," Wieser said. "We will hopefully get to see some of the schools we saw in D.C. there as well."
"It doesn't stop this weekend," Haney said. "Our goal is to bring what we learn back to Jesuit and reintroduce it for our community."
About the Contributor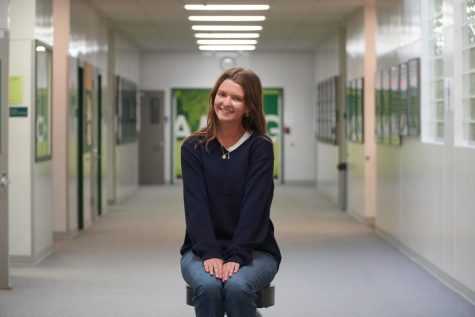 Lauren Herrick, Editor in Chief
Senior Lauren Herrick is a returning student from Journalism and a member of the editorial
board this year. Lauren enjoys producing feature and opinion pieces, collaborating with the team
to lead the development of the online and print paper, and enhancing her passion for the craft of
journalism through incorporating technology such as podcasts— check out the Sader Scoop, 
which she co-founded and edits. When she's not writing, you can find her reading the
Wall
Street Journal
or listening to NYT's The Daily. Outside
of journalism, Lauren enjoys practicing
yoga, part-time baristing at a local cafe, spending time exploring Oregon with her friends, and
listening to a lot of country music. She's excited to help lead the Jesuit media program and
explore topics more in depth during her second year of the program.