Artist Spotlight: Kekoa Dowsett
Kekoa Dowsett is a junior at Jesuit High School. He is an active member in the Jesuit community, especially in the theater program.
His passion for drama first began back in middle school, with his drama teacher and now role model, Mr. Kirk Rehm. Rehm's fiery passion for theater fueled Dowsett to become the incredible performer he is today. After participating in his middle school play, Dowsett became enthralled with the world of theater and brought his enthusiasm with him to high school. During his freshman year, Dowsett was a part of the production Puffs, a fun take on the Harry Potter series.
"Puffs had an unparalleled community, everyone was so welcoming and so kind, and we built a family within the cast," Dowsett said.
Throughout this production, he was directed by Elaine Kloser and Jeff Hall, who have helped shape the actor and guided him through life on stage.
Additionally, Dowsett has acted in 8 productions in high school. His two favorites are Puffs and SpongeBob The Musical, where he gave a phenomenal performance as Plankton. For such a young performer, Kekoa's vibrance on stage and ability to connect with the audience is astonishing.
Dowsett was honored for his remarkable accomplishments at an assembly last school year for placing at the state-wide thespian competition in two different divisions.
Dowsett defined what the competition entails.
"Students compete in several different categories, whether it be acting, comedic or dramatic duo or solo performances, or sing and perform musical theater," Dowsett said.
He performed two different acts in the monologue category from the productions The Laramie Project and The Actor's Nightmare. Dowsett also performed a scene from Wonder of the World under the Comedic Duo category, alongside alum Karli Lonnquist. After placing in the top 20% of competitors at the regional round, he was invited to perform at the state conference in both categories.
Aside from theater, Dowsett's other passions include writing, math, reading and art. He is a member of Jesuit's writing club, where they discuss their most recent pieces and assist each other in achieving their writing goals. Kekoa is also a student leader for Asian Student Union, where he organizes events that promote awareness and equity for Asian culture that gives students of the same background an opportunity to connect. Finally, he is an active member of Jesuit's famous drama club and is also on the Coffeehouse committee, where he facilitates Coffeehouse productions for Jesuit.
This year, Kekoa is looking forward to performing in the production The Play That Went Wrong and the musical The Wizard of Oz. He also hopes to pursue theater into college, where he would either major in theater or be a part of local productions.
About the Writer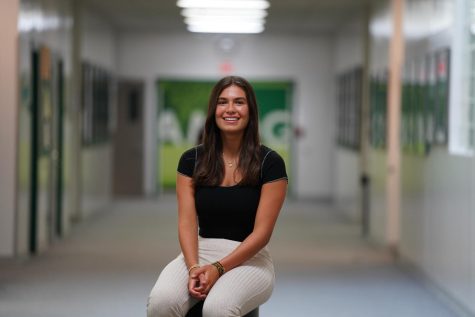 Alex Hawes Silva, Staff Writer
Alex Hawes Silva is a seventeen-year-old, Mexican-Canadian, student at Jesuit High School. Despite
her North American background, she spent the majority of her childhood living in Asia. For over
a decade, she lived in China, Singapore, and India. It was in those places that Alex first
discovered her love for journalism. In countries that were constantly buzzing with newsworthy
events, Hawes was enthralled by the hum of it all and was eager to share. What started with
writing in a journal every night turned into a passion that has seeped into every facet of her life.
Hawes often works in broadcast journalism, by announcing sporting events and editing film. She
has also created podcasts, articles, and put together a documentary on climate change. She
hopes to begin writing about global and cultural events as well as sports. In addition to
journalism, Hawes also enjoys playing soccer, camping, and traveling.