Seniors See Value in Personal College Essays
As November 1 dwells closer and closer, seniors are quickly polishing the final touches on their early applications to schools— especially their essays.
Beyond transcripts and activities lists, students are required to write a 650-word personal statement to submit to all of the universities that use the universal Common Application, and are additionally instructed to answer shorter, school-specific prompts for each university they apply to. Since the average number of universities American students apply to is around 6, seniors' autumns are often bombarded by producing these crucial essays. 
Except, these aren't your typical English class assignments.
Columbia University asks students to "Reflect on a source of happiness." UPenn requires applicants to "Write a letter to someone thanking them." Almost all schools invite students to define a diverse aspect of their identity as an optional part of their application. In other words, students will share intimate details from their personal life to an admissions representative they've never met before— and it is a key factor in their opportunity to achieve their desired higher education.
No pressure, right?
As a current college applicant myself, I started to think about how these prompts are increasingly growing more and more personal. Is it right that strangers should know stories from my life that my friends and teachers don't even know? Do the admissions committees favor responses that overshare or undershare? What information should I share?
I decided to discover what my peers are thinking about this dilemma, and was struck by the overwhelmingly optimistic view Jesuit seniors have of their experience writing college essays.
Fiona Oliver believes writing components are necessary in order to individualize her application.
"There's so many qualified applicants applying to colleges, who often have the same SAT scores, same classes, and even the same extracurriculars," Oliver said. "The only real way to differentiate yourself is to have a really unique essay. I also think writing is something I really love, so for me it's really enjoyable to share a lot about myself."
Oliver's confidence in her stories allows her to trust the information she's sharing with the admissions committees.
"I think it's really powerful for someone to read something so deep about you," Oliver said. "Powerful enough to want you to continue your next four years at their educational institution. And while the worst case is that it doesn't work out, you're going to get matched somewhere where your story will work out."
Similar to Fiona Oliver, Oliver Jensen finds comfort in the colleges' holistic approach to reviewing applications and essays.
"I know that they're not looking at it from a standpoint of being judgemental," Jensen said. "I feel like it's good to share your experiences with people and connect with people on a personal level, even those you don't know."
Oliver additionally identified a key reason colleges choose to assess their prospective students through reflective prompts.
"I think that an essential aspect of growing up is doing a lot of personal reflection," Oliver said. "I think applications are a bridge towards adulthood and therefore an opportunity to reflect on the consequential influences that have made you the person you are before college."
Darsh Mandera argued that these prompts can also be subjective, allowing room for each applicant to choose what information they wish to share.
"If you really don't want to reveal too much, you don't have to," Mandera said. "Essays just give you an opportunity to share yourself beyond academics, whatever that looks like for you."
Ben Lewis concluded that college essays show that students are a whole person beyond letter grades or numbered SAT scores.
"Sharing personal things helps a college better identify who the applicant actually is," Lewis said. "It makes your application meaningful."
My peers' perspectives restored my confidence in the need for college applications' writing components. While prompts are often structured to elicit personal responses, each student can interpret questions differently and modify their answers to fit what they're comfortable sharing. Applicants' carefully constructed responses are necessary for admissions officers to assess a student's profile beyond the constraints of a report card, and because of this, students should use their essays as an opportunity to share all the qualities that make them a unique candidate for a university. 
About the Contributor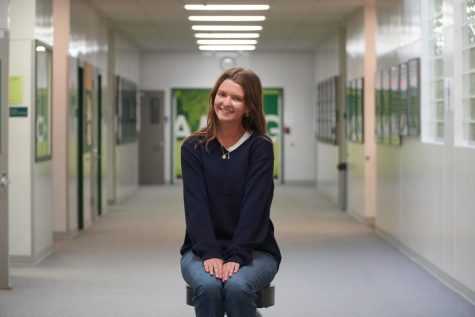 Lauren Herrick, Editor in Chief
Senior Lauren Herrick is a returning student from Journalism and a member of the editorial
board this year. Lauren enjoys producing feature and opinion pieces, collaborating with the team
to lead the development of the online and print paper, and enhancing her passion for the craft of
journalism through incorporating technology such as podcasts— check out the Sader Scoop, 
which she co-founded and edits. When she's not writing, you can find her reading the
Wall
Street Journal
or listening to NYT's The Daily. Outside
of journalism, Lauren enjoys practicing
yoga, part-time baristing at a local cafe, spending time exploring Oregon with her friends, and
listening to a lot of country music. She's excited to help lead the Jesuit media program and
explore topics more in depth during her second year of the program.