"Espresso" Yourself: October Coffeehouse Recap & Photo Gallery
Three times a year, Jesuit students come together in the cafeteria to share their talents in a low-key setting akin to a coffeehouse open mic. Students can sign up to sing, play an instrument, or read poetry in the Holman Family Student Union at Coffeehouse.
Scott Reis, one of the event's faculty coordinators and a math teacher at Jesuit, described the process of setting up Coffeehouse.
"It's mostly student planned and run," Reis explained. "I kind of remind them 'Hey, we need to have a meeting like three weeks before the coffeehouse to kind of get the theme, pick the emcees.' Then, two weeks before, they start making posters to hang up around the school."
Coffeehouse is ultimately a very student-focused production, and is led by a committee of Jesuit students who organize the event. Juniors Kekoa Dowsett and Piper Lavey head this year's Coffeehouse Committee.
Dowsett spoke on why he loves Coffeehouse.
"It's whatever you want it to be. It can showcase talent that you normally wouldn't get to express," Dowsett said. "And the fact that it's all student-led is just incredible." 
Similar to many other facets of the Jesuit community, Coffeehouse has experienced a number of challenges in the past few years due to COVID.
"There was almost a full two years where we didn't have in-person Coffeehouse," said Reis. "I think we're on the rebuilding stage. We're trying to bring it back and drum up interest."
Along with increasing awareness and participation, the Coffeehouse Committee hopes to make the event a more inclusive space.
"What I really wanted to focus on this year is bringing all types of people from Jesuit, like all corners of Jesuit, to Coffeehouse," Lavey said.
This particular production of Coffeehouse was Halloween-themed, so  attendees were encouraged to wear costumes in honor of the upcoming holiday. Seniors Alex Payne and Noah O'Mahony emceed the event and introduced all the performers with amusing jokes. Performances included solo vocalists, multi-instrument bands, interpretive dance, and more.
"It was really nice being able to be super vulnerable around people and knowing that I'm going to be supported, and it was really nice supporting everyone else," said junior Abby Wentworth, who performed at Coffeehouse. "It's just a really good community."
Make sure to join your fellow students before spring break for the next Coffeehouse on March 24th!
About the Contributor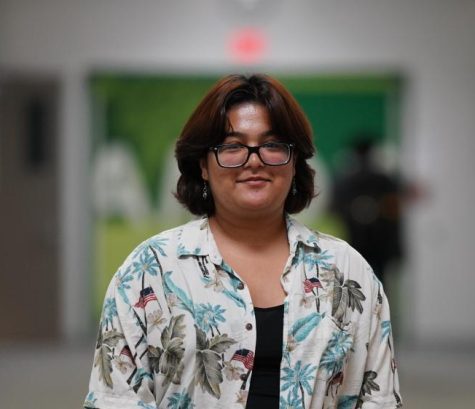 Tanisha Chetty, Staff Writer & Podcast Producer
Tanisha Chetty, a senior at Jesuit High School and first-year contributor to the Jesuit Chronicle, is
excited to branch out and experiment with new journalism skills. While she doesn't have any formal
journalism experience, she enjoys critically engaging with the community around her, and she holds a lot
of love and excitement in her heart. Tanisha is a student leader of both ethics bowl and book club and
participates in Jesuit's Chamber Choir. She has a dog named Jupiter. Her go-to coffee shop order is an
iced chai latte, but her incredibly charming and humorous personality rarely needs the caffeine
supplement. In addition to writing, Tanisha loves all things music, movies, and books. She hopes to write
articles about interesting media, social issues, and events within the Jesuit community.