Women's Varsity Soccer Recap: Jesuit vs Sprague
The Women's varsity soccer team, currently ranked #4 in the nation, took on Sprague High School in the first round of playoffs.
The match started off strong with sophomore Claudia Rose, scoring a swift goal in the first thirty seconds. This goal was the first of many that was assisted by Hanna Slama. The majority of the goals scored during the game were the direct result of her excellent crosses in front of the goal, creating the perfect opportunity for a Jesuit forward to slam the ball into the back of the net.
Jesuit did exactly that, scoring profusely in the first half. Freshman Marianne Dunne is a huge contributor to this, scoring two of the nine goals and assisting one. She worked relentlessly to facilitate her team's scoring, including sophomore Kaitlyn MacLennan, who also scored two goals for Jesuit.
While this game was free-flowing, one disruptive pattern that emerged was offsides. The referees called several offsides throughout the game and was one of the most prevalent aspects in the match. Though, it did slow down as the game progressed.
Yet, this incredible victory cannot be credited to just the lead scorers, as the defensive line-up were equal contributors. Eva Grunkemeier and Sophia Stiles worked as a cohesive unit to keep the ball far away from the Jesuit goal and play it up through the midfield.
Jesuit completed a mercy rule about thirty minutes into the game, making the score 8-0. Athletic codes call for the first half of a game to be finished, even in the case of a mercy rule, so the game continued. With about ten minutes left in the game, junior and recently declared Texas Christian University commit, Abigail Cox, made the final score 9-0.
Jesuit will progress to the second round of playoffs against Oregon City.
About the Contributor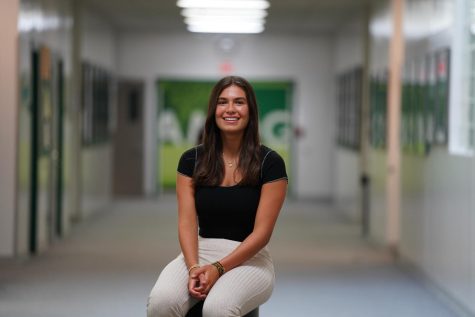 Alex Hawes Silva, Staff Writer
Alex Hawes Silva is a seventeen-year-old, Mexican-Canadian, student at Jesuit High School. Despite
her North American background, she spent the majority of her childhood living in Asia. For over
a decade, she lived in China, Singapore, and India. It was in those places that Alex first
discovered her love for journalism. In countries that were constantly buzzing with newsworthy
events, Hawes was enthralled by the hum of it all and was eager to share. What started with
writing in a journal every night turned into a passion that has seeped into every facet of her life.
Hawes often works in broadcast journalism, by announcing sporting events and editing film. She
has also created podcasts, articles, and put together a documentary on climate change. She
hopes to begin writing about global and cultural events as well as sports. In addition to
journalism, Hawes also enjoys playing soccer, camping, and traveling.