Broken arm, not broken dreams
As the JV football season comes to an end, each year a group of players will swing up to play on Varsity. This year, sophomore Dominic Locati is one of those players. 
Locati made his varsity debut during the last game of the regular season, Jesuit's senior night against Beaverton, a lopsided 63-13 win for the Saders. 
The unique part? During the JV season, Locati broke his arm. 
"He showed great tenacity and toughness throughout the JV year, broke his arm, and didn't let that deter him from still wanting to play," Coach Potter said. 
However, after getting the doctor's approval, Locati was able to swing up and play. 
"He was the one who went to the doctor and got the okay to put a wrap around it and be able to play even while it healed, so that just shows the kind of determination he has," Potter said. 
At first, Locati didn't think it would happen. 
"The only reason my mom sent the email to the doctor is because she thought they would say no, but they said yes, [and] to be honest, just because I had a broken arm, I didn't think I would play very much," said Locati. 
However, Locati scored a touchdown in the game against Beaverton, immediately showing his presence as an impact player. 
Potter continued to amplify Locati's strengths. From a dynamic practice player supporting Jesuit's starting offensive and defensive lines to his impact in Jesuit's final game of the regular season, Locati proved his determination and talent.
"He showed that he had that toughness and that desire to continue to play, so when it came time to make a decision, it wasn't a hard decision," Potter said .
Locati commented on the fact that the transition to varsity has been made easier by his connections with his fellow JV players also swinging up and the welcoming nature of the varsity team. 
"Everyone is super friendly…I get along with everyone…The energy from JV to varsity, it's so much stronger and it feels more like a brotherhood than just a team."
About the Writer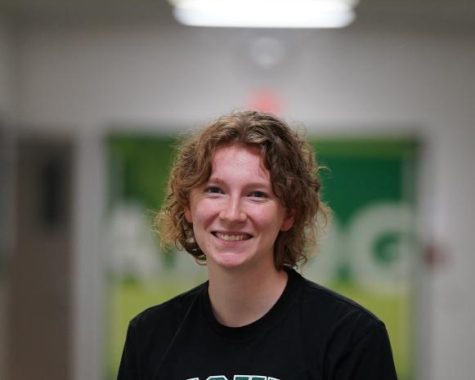 Caitlin Thomas, Staff Writer & Photography Editor
Curious, driven, and open-minded, Caitlin Thomas is an active member of the Jesuit community. She is involved in student government, women in sports club, and the ambassador program. Caitlin developed her interest in media taking photography class her junior year. She enjoys unique projects like fashion photography, senior photos, and focusing on capturing a subject's personality in her pictures. You'll find her with her camera at many Jesuit events capturing the unique, diverse community. Thrust into the spotlight, Caitlin interviewed 4 Jesuit students dressed as bananas at the Homecoming Football game while filling in for a sideline announcer at the last minute. This chance interaction launched her excitement in discovering passions in journalism and JCTV. She plans on reporting current events and Jesuit student interests. Caitlin loves being involved at Jesuit and in the greater Portland community, volunteering at Blanchet House and co-founding the non-profit Handle With Care PDX. Outside of school, she enjoys reading, working out, and traveling. She also enjoys exploring Portland's thrift stores and vegetarian restaurants.