The Goals and Impact of LSU
Achieving goals, granting wishes and impacting lives are just some of the things LSU wants to accomplish this school year. For this club, this year is filled with hard work to educate and brighten not only Latino students, but the Jesuit community as a whole.
Latino Student Union (LSU) is focused on making sure Latino students feel connected with their culture and the rest of their peers. Just as other clubs do, they hold meetings and host events to grow the relationship between members and the community.
But LSU has bigger plans in place to help the club succeed this year. Senior Lizbeth Lopez Martinez is one of several LSU club leaders this year, and she describes some of the main goals for the club.
"This year's main focus of LSU is inclusivity and really hearing the perspective from students and what they want to see with the club going forward," Martinez said. "Our main goal this year is to make their dreams come true and help them feel welcomed into this community, especially the freshmen."
LSU highlights the importance of focusing on forming an all-inclusive club space.
"Our main goal for the beginning of the school year is just to create a really safe place," Lopez Martinez said.
To achieve these goals, the club leaders have several different roles.
"Some of our responsibilities are to create a safe environment for our Hispanic and Latino students and also create events that could potentially go into the larger community of Jesuit and make our voices be heard," Lopez Martinez said.
"I want LSU to leave an impact in their lives," Lopez Martinez said. "Like saying how much fun they had or having their voices be heard."
Lopez Martinez believes the club has brought much awareness to injustices that have happened in our community.
"It's very difficult for students to voice their opinions, especially when they feel like they're judged," Lopez Martinez said.
Although inclusivity is important, she also underscores the importance of making sure people feel safe.
LSU is currently working on setting up a display of books in the library written by Hispanic and Latino authors. This plan will help bring more awareness to the Latino community and shed light on the importance of recognizing and embracing the Latino community at our school.
The club will start out with small goals, such as having a Latino-based book display, in order to eventually make efficient progress in spreading information and positivity. Starting out with steady plans will help LSU make sure that next year the club is even bigger than it was this year, with even more impactful goals to get them started.
Lopez Martinez frequently speaks with members of LSU to gain insight on the direct impact of the club. She spoke with Alondra Salinas Villafuerte, a senior who has been a member of LSU for two years.
"I now have a bigger community that I relate to at Jesuit and I feel more connected and welcomed. I feel like I am not isolated; like I am not the only person of color at a very white school," Salinas Villafuerte said.
The impact of LSU often stems from the fun and educating events and club meetings. There are many new events that the club has planned. LSU encourages the Jesuit community to join them during their multiple events throughout the year.
About the Contributor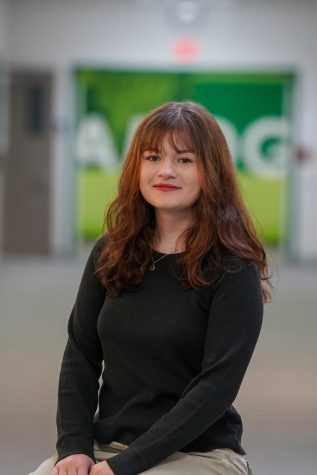 Ryan Sena, Staff Writer
A senior at Jesuit High School and a new, experimental writer, Ryan Sena is eager to
write about upcoming events at Jesuit, cover creative art-related activities, and introduce Jesuit to
new ideas and voices. Furthermore, she is not solely interested in journalistic writing, but she
also finds enjoyment in creative writing and musical analysis. Her interest in writing has grown
throughout the past several years. Not only is she fond of writing, but Ryan also appreciates and
adores all things art, ranging from photography to music to theatre. In addition to these subjects,
Ryan enjoys spending her free time working on her photography, creating art, and finding new
music to listen to. Photography is one hobby that she is very passionate about, especially when it
comes to pictures of nature and the sky. She loves to watch and listen to the rain, the clouds, and
the snow; the calming winter season is something she looks forward to every year. Overall, Ryan
hopes that in her writing journey, she will discover new opportunities, people, and ideas to help
her and her peers at Jesuit grow.