Voices from the Crowd – Ellie Malka
Ellie Malka was born and raised in Portland, Oregon by her mom, dad, and older sister. Malka attended Robert Gray Middle School until seventh grade, and then transferred to St. John Fisher to finish out her middle school career. Malka is now a sophomore.
After Jesuit, Malka hopes to major in business, as she aspires to take over Malka Diamonds and Jewelry – the family business that her grandfather started, and her dad now runs. 
In the meantime, Malka enjoys hanging out with friends, family, baking, and cooking. Her specialty dish is potatoes any way – French fries, baked, or mashed!
When Malka is not in the kitchen, you can find her on the field, as she was a soccer and track athlete last year. Now, Malka is contemplating whether or not to play women's lacrosse in the spring. 
Malka is also the President of her youth group. She specifically leads a Portland's girl's chapter, connecting with students from all over the world.
"People from South Africa, Morocco, and all different places get together once a year for a big convention," Malka said. 
Not only is Malka a leader in her youth group, but also around Jesuit, as she is one of the sophomore class representatives who was voted in last spring. Malka brings a unique perspective to the school, specifically, as a result of being a Jewish student. 
Coming to Jesuit with a different faith background, Malka didn't know what to initially expect. 
"I went into Jesuit with an open mind and stayed true to myself," Malka said. " I know I'm in a really good spot with my religion, but I also think it's interesting to learn about different religions – it's actually been one of my favorite things I've done at Jesuit so far."
Malka's open-minded and welcoming attitude has also allowed her to develop deep friendships, specifically with friends Julia Paulson and Finley Clark.
"I met [Ellie] in third grade during rec soccer, and we've been friends ever since", Clark said. 
After years of not going to school together, Clark and Malka finally united where they met Paulson their freshman year, and grew their friendships much closer this past fall.
As a group, they enjoy making cookies and hanging out with the Malka family. 
"I even got invited to Shabbat dinner", Clark said. Paulson then chimed in, "I just love the Malka family." 
Clark and Paulson appreciate how much Malka does for those around her, as she has a strong love for "her people".
"She genuinely cares about the community, Jesuit, her friends, and family", Paulson said. 
Overall, Malka encourages others to stay true to themselves and view situations with a variety of perspectives and outlooks.
About the Contributor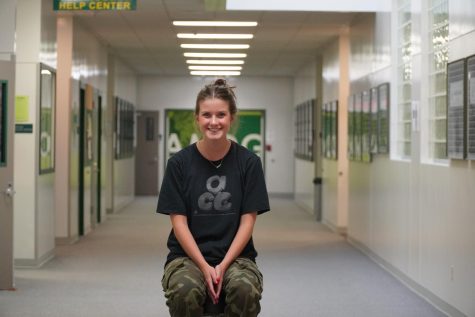 Brynn Ensminger, Staff Writer
B
ig-hearted.
R
eliable.
Y
outhful.
N
ice.
N
utty. All words to describe
Brynn
Ensminger. Brynn is a senior and will be joining the Jesuit media team for her first year. Brynn has always had a passion for writing, as she feels it is a wonderful way to express herself. She is most passionate about writing pieces on the issues many teens face, in hopes of connecting students with one another. Her experience in understanding teens comes from living with her three brothers. Brynn has two older brothers who graduated from Jesuit in 2021, as well as a younger brother who is a freshman. Along with talking about the struggles of high school, Brynn hopes to be the voice of one of Jesuit's podcasts, as she loves to chat! Discussing celebrity, school or any other drama, she is here for it. When she's not in the classroom, you can find Brynn playing soccer, lacrosse or even singing some karaoke. Although she's not the best singer, she sure knows how to put on a show! Brynn looks forward to learning more about media and further developing her leadership, inquiry, and communication skills.