4 years later, the 24 Hour Plays are back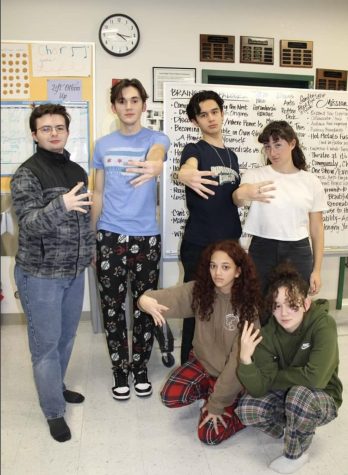 24 actors, 6 playwrights, 6 directors, and 12 technicians—all Jesuit students— come together to create and perform 6 original one act plays in just 24 hours. 
The 24 Hour Plays is a tradition that takes place in theaters worldwide. Jesuit High School incorporated this engaging, fast-paced event into its drama department about 6 years ago. 
Due to the pandemic, the event was halted, but the 24 Hour Plays saw a return to the Marilyn Moyer Theater stage for the first time in 4 years when the curtain rose Saturday, November 19.
The students showed up at 7:30 PM on Friday, November 18 in the Blackbox. After hours of brainstorming altogether, the playwrights broke off and began their writing process.
One specific play that engaged the audience well and exemplified the collaborative and creative spirit of the 24 Hour Plays was senior Sophia Marthaller's Respectfully, What the Slay, a "medieval fantasy about a narcissist knight." 
Marthaller was in the writer's room for four long hours, brainstorming and drafting until the script came together. 
"I was the last one to finish at five-thirty in the morning and I was so tired and I just wanted to be done, so I sent off the script to Jeff and Elaine without a proofread or anything," Marthaller said. "So, one can imagine my shock when I woke up and everyone told me they loved the script." 
Inspired by the positive feedback, Marthaller next looked to find her director and cast. Freshman Susie O'Mahony, sophomore Siana Yanosy, and seniors Noah DeKlotz and Alex Hawes were cast as actors, and junior Piper Lavey was selected to direct the play. 
Immediately, they all got to work—running lines and rehearsing. 
"The director and actors are who really turned it into the all out comedy that everyone saw on Saturday," Marthaller said. "The entire team of Respectfully, What The Slay had such good chemistry and was so fun to work with. Piper and I tried to create a super safe and low stress environment, and I think this comfortability with each other showed on stage." 
When asked about collaborating with her director, Marthaller was enthusiastic about the partnership. 
"I need to start with a shout out to Piper because I could not have asked for a better director.  When she explained her plan for the play, I was absolutely floored; she had such an amazing vision and was so open to suggestions, and this made it so easy to work with Piper." 
Lavey worked with the actors to bring the script to life. When asked about her process, Lavey explained how she wanted to make sure the environment was fun and safe so the actors could feel comfortable bringing their own creativity to the performance. 
"My approach was to look at the show with an open mind," Lavey said. "I wanted the cast to take their own risks and bring their own magic to the script. I also approached it thinking: "If I was an audience member, what would I like to see from this show? What would make me laugh?" 
Lavey's experience in the drama program at Jesuit and love of theater supported her work as a director for the 24 Hour Plays. Adding to her leadership, the cast's and Marthaller's work created the basis for effective collaboration and an incredible experience for those involved. 
"Working with the cast was so special. Each one of them brought something so special to the show. As time got short, my cast rallied and would practice lines and blocking in any free moments that they had," Lavey said. "We all wanted the show to work, and that's what made it so cool. It also helps that everyone in my cast was having a blast while rehearsing, it really showed on stage how much fun we all had." 
Marthaller and Lavey worked together to create an engaging, funny show for the actors and audience to enjoy. 
"When I write, I pour my heart and soul and mind into every piece I write. So sharing a piece, especially on such a large scale, is like cracking open my imagination and letting the audience take a peek inside," Marthaller said. "Being completely honest, I almost cried when all the actors took their final bow." 
Despite the sleep deprivation, the hard work of this cast and the dedication and creativity of the other students involved created an incredible return to the stage for the 24 Hour Plays.
About the Contributor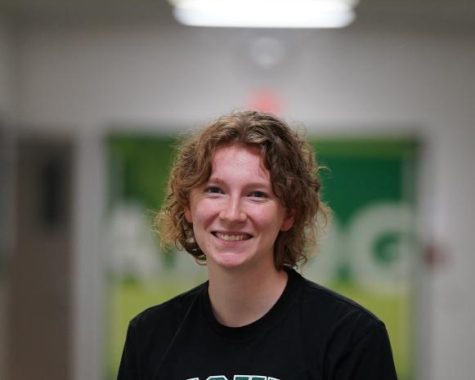 Caitlin Thomas, Staff Writer & Photography Editor
Curious, driven, and open-minded, Caitlin Thomas is an active member of the Jesuit community. She is involved in student government, women in sports club, and the ambassador program. Caitlin developed her interest in media taking photography class her junior year. She enjoys unique projects like fashion photography, senior photos, and focusing on capturing a subject's personality in her pictures. You'll find her with her camera at many Jesuit events capturing the unique, diverse community. Thrust into the spotlight, Caitlin interviewed 4 Jesuit students dressed as bananas at the Homecoming Football game while filling in for a sideline announcer at the last minute. This chance interaction launched her excitement in discovering passions in journalism and JCTV. She plans on reporting current events and Jesuit student interests. Caitlin loves being involved at Jesuit and in the greater Portland community, volunteering at Blanchet House and co-founding the non-profit Handle With Care PDX. Outside of school, she enjoys reading, working out, and traveling. She also enjoys exploring Portland's thrift stores and vegetarian restaurants.