How Your Privacy Could Be Breached on Instagram
It's 3:00 and school just got out. You go through your phone as you take a break from homework, and you innocently open Instagram,  only to find an account using pictures of you with a link to a suspicious website. You freak out! 
When an Instagram user has a public account, there is the possibility that scammers can create a fake account and use your pictures for malicious intent.
Officer Justin Haugen, Jesuit's school resource officer, warned of the dangers of having a public account, especially for young women who tend to fall victim to these scammers. 
"The predominant victims are females,"Haugen said. "What these people are doing is they are going to unlock Instagram accounts or they're friending people and then gaining access to Instagram once they're approved. They are taking pictures from that account, then creating a fake Instagram."
It's crucial to spread awareness of this issue, for many Jesuit students are uninformed of its popularity or dangers. 
Junior Ryanne Fisher is aware of this trend, but finds it to be some kind of prank, as opposed to an action done by a bot  or other scammer.
"I've heard of it, and some of my friends and I have said how weird it is, and how it's an unnecessary prank," Fisher said. "There are some weirdos out there." 
It goes further than impersonation, however. Once the pictures from the account are stolen, they are uploaded to adult entertainment websites that require credit cards,  stealing users' financial information. 
"They use the pictures of the young females as hooks or bait to get people to sign up for Onlyfans  and then once they're in Onlyfans,  then it's just adult entertainment stuff," Haugen said. 
"I haven't heard of it much, to be honest," senior Liana McKeen said. "I don't use Instagram very much."
Once an account is compromised or impersonated, it can be very difficult to regain control of an account. 
As one Maine teenager's parent noted, Instagram takes a long time to process the volume of account reports, so it can be difficult to get accounts taken down, although Intagram's guidelines say "Don't impersonate others and don't create accounts for the purpose of violating our guidelines or misleading others."

Officer Haugen shares that making accounts private can help users avoid impersonation. If a user you know's  pictures and identity are used in a way that mirrors this trend, be sure to  report the account and ask those you know to report the account as well. 
About the Writer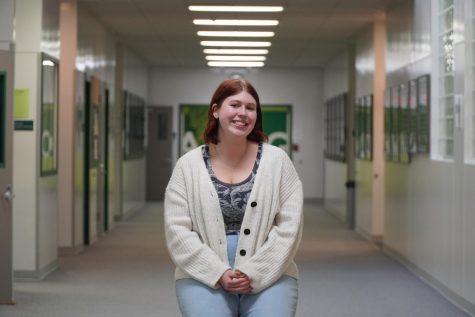 Allie Ruden, Editor in Chief
Allie Ruden is a senior at Jesuit High School and a second-year journalism student. Allie was born in Portland, Oregon, and is an only child. She has a labradoodle named Daisy who loves to nap and sunbathe.  In Allie's free time she loves to read, cook, and listen to all kinds of music. She loves to explore Portland with her friends. Her favorite places to eat in Portland are Bamboo Sushi, JoLa Cafe, and Grassa (highly recommended). Allie enjoys going to the beach, especially Manzanita and Lincoln City, and traveling all around Bend.  She loves writing and her favorite subjects in school are Journalism, English, and Spanish. Allie is interested in writing articles about music, pop culture, and the students and issues of the Jesuit community. She is excited to be able to write about what she is passionate about and delve into issues important to her. Allie is thrilled to be writing for
The Jesuit Chronicle
this year and is hoping to meet some new faces!