Jesuit's Secret Treasurer Retiring
Although a lot of his work is under the radar, Mr. Ken Foley '76 has spent the last 19 years at Jesuit giving back to the community.
At the end of December, Mr Foley will be retiring. 
Foley graduated in 1976 and during his time as a student he immersed himself into the Jesuit culture and took up many activities. 
"I was a yearbook editor my senior year; I was on the JV golf team as a freshman and sophomore; I played football my freshman and sophomore year; and I was on the swim team, of course," Foley said.
Mr. Foley attended Lewis and Clark College after graduating from Jesuit where he competed on the dive team. After Lewis and Clark, he attended Harvard Business School. 
Foley worked for General Electric and Hewlett Packard for a combined 17 years. After his time at those two companies, he returned to Jesuit as treasurer, where he managed all of Jesuit High School's finances. Under Foley, Jesuit acquired the Valley Plaza lot for $17 million, and he oversaw the challenges inherent in such a massive project. 
"Well, at the time, there was concern about contamination at the ice rink because significant chemicals are used to manage the ice. So there was an investigation into that. You obviously look at the quality of the tenants and whether they can continue to pay. You look at the condition of the buildings, whether you need to replace roofs or do things like that. So there's a lot of due diligence when you buy a piece of property," Foley said. 
Mr. Foley has had a huge impact on the community, which may not always be recognized by students. His peers have noticed, however, especially President Arndorfer. 
"He's the epitome of a man for others. He wanted to make Jesuit High School a better place and over the last two decades has been phenomenal," Arndorfer said. 
Mr. Foley's exemplary character has helped Jesuit improve in many ways. 
"He's not in the classroom. He's not running a program like Christian service or campus ministry or DEI, but he can look at things and he can say, hey, that's working, or I'm concerned about this here," Arndorfer said. 
Mr. Foley is a presence that Jesuit High School will miss. 
"I think we'd all agree and people don't really realize their worth until they're gone," Arndorfer said, while talking about Foley's presence. 
The Jesuit community has not only had an amazing impact on Mr. Foley, but his kids. Both of his two kids attended Jesuit. His oldest, Patrick, was a part of the class of 2006 and his daughter, Meghan, was a part of the class of 2008. 
Although he will not physically be on campus anymore, Mr. Foley will always be a part of the Jesuit community.
About the Contributor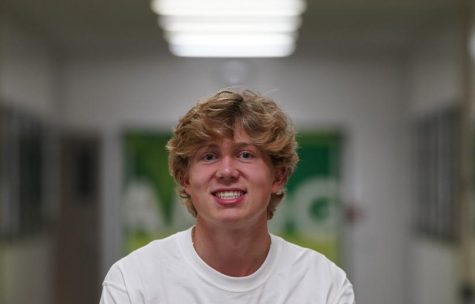 Charlie Riddle, Staff Writer
Charlie Riddle is a senior at Jesuit and this is his first second year in media. Charlie's favorite thing to do in the media is make podcasts. Charlie has two sisters. One of his sisters, Abby, graduated from Jesuit in 2020 and goes to TCU and his other sister Kate is a sophomore at Jesuit. Charlie also has two dogs named Lulu and Archie. Charlie is involved in the lacrosse program at Jesuit. Charlie's favorite thing he wants to write about this year is sports and movies. His favorite sports teams are the Oregon Ducks, Trail Blazers and the Chargers. Some of Charlie's favorite hobbies are traveling, playing sports, and hanging with friends. Charlie's favorite sport is golf. The coolest place he has been to is Mexico. When Charlie is not in school and has some free time he also likes to play golf and hang out with his friends. Charlie is not the best golfer but he still enjoys playing. Charlie also enjoys watching movies. Charlie hopes to write a couple articles this year about some of his favorite movies.