Golden Tickets Hype and Help Food Drive Efforts
Murmurs of the illusive "golden ticket" echo the halls of Jesuit during food drive season. But what exactly is the golden ticket, and how is a student lucky enough to receive one?
This long-standing tradition is a piece of paper awarded to select students. Receiving a ticket allows these students to miss a full day of classes on the final day of the food drive, during which they will instead spend the day in the cafeteria packaging and sorting food and perishable items. 
"We really love our golden ticket helpers," Associate Director of the Arrupe Center for Justice Emily Schmidt said. "They're our main workforce, so it's really important we invite a big enough group of students to support our final food drive efforts."
This year, golden ticket helpers committed to sorting food donations after school on Wednesday, December 14, and continuing that work on Thursday, December 15 from 8:00 AM to 1:00 PM. 
If a student did not receive a golden ticket this year, the Arrupe Center for Justice provides another shift for anyone to stop by and help support food drive efforts from 5:00 PM to 8:00 PM on Wednesday. 
Schmidt, alongside Director of the Arrupe Center for Justice Andrea Casey, selects golden ticket helpers by observing who has committed to participating on the 5 student committees: Advertising, Special Events, Perishables, Distribution, and T-Shirts. 
"These are the students that help us advertise events, run the special events, call sponsored families, buy perishable items, and more," Schmidt said.
Senior Nate Heller was awarded a golden ticket after he helped organize the Simple Meal and Baby Goats events through his work on the Special Events committee.
"I hadn't been involved with behind the scenes food drive work before," Heller said. "I figured that since it's my final year at Jesuit, it'd be rewarding to get involved."
Heller is anticipating positive collaboration with his peers to create an environment for effective service on Thursday.
"I'm excited to see all the food drive participation behind the scenes," Heller said. "It's great to be a part of something that provides so much joy to people experiencing food insecurity in our community."
Junior Farzin Daruwala also received a golden ticket this year after her consistent participation on the Special Events committee.
"When I started helping out with the food drive I wasn't necessarily aiming for a golden ticket but instead hoping to have a lot of fun with helping people out," Daruwala said.
The recognition was a nice surprise, as Daruwala is now looking forward to the opportunity to contribute more of her energy to the food drive. 
"Working behind the scenes at the food drive was important to me because it really helps me feel like I'm making a difference in the world even if it is just a small one," Daruwala said. "I guess it makes me feel happy to know that I am one of the reasons for a family being happy."
The golden ticket system is a special incentive for students to assist the Arrupe Center for Justice and create food drive spirit on distribution day. 
About the Writer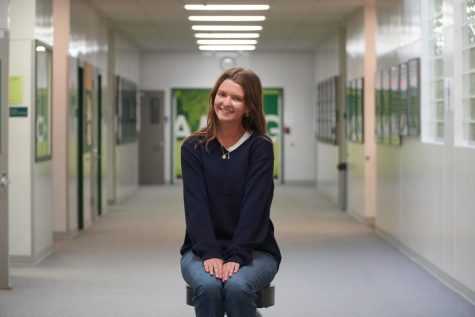 Lauren Herrick, Editor in Chief
Senior Lauren Herrick is a returning student from Journalism and a member of the editorial
board this year. Lauren enjoys producing feature and opinion pieces, collaborating with the team
to lead the development of the online and print paper, and enhancing her passion for the craft of
journalism through incorporating technology such as podcasts— check out the Sader Scoop, 
which she co-founded and edits. When she's not writing, you can find her reading the
Wall
Street Journal
or listening to NYT's The Daily. Outside
of journalism, Lauren enjoys practicing
yoga, part-time baristing at a local cafe, spending time exploring Oregon with her friends, and
listening to a lot of country music. She's excited to help lead the Jesuit media program and
explore topics more in depth during her second year of the program.