Student Perspectives on the 2022 Food Drive
Jesuit's food drive has multiple moving parts— there are many committees to join and lots of ways to get involved with the event. Some students decide to donate cans or money, and others decide to donate their time to the cause.
Each first period class sponsors a family. The class chooses a goal amount of money to raise so they can buy gifts for the family. Each family gives their corresponding class ideas for gifts.  At this point, it then falls on the students to raise the money and buy the gifts. This year, senior Kate Buss helped her first period class with this. 
"This year I signed up to buy a Claire's gift card for the little girl in our family, and then [I signed up] to drive," Buss said. 
Buss spoke about the importance of community in not only the food drive, but in  our school as a whole. 
"I think it's just giving back to the community and doing something nice for people who have less than others during this time. It's important because it gives us perspective of the things we have in our life," Buss said. 
Buss' favorite part of the food drive is one of the last parts of the whole process. 
"My favorite part of the food drive is actually just dropping off the food and giving the presents to the parents," Buss said. 
Not only is Buss delivering the presents to the families, but she has also signed up to deliver food boxes to the other families that Jesuit works with. 
Delivering food boxes may be one of the most important parts of the food drive. This year, 375 families will receive boxes of both perishable and nonperishable food collected from Jesuit students. Even more food goes to multiple food pantries across town. Students have the opportunity to sign up to be drivers with either family members or friends. Junior Caden Swanson is taking this opportunity. 
"I'm driving with Gus Clevenger and we're doing that on Thursday. We're going to deliver it to three families," Swanson said. 
Swanson shared his personal connection to the food drive. 
"My dad was in a situation like that growing up, so I want to give back," Swanson said. 
Swanson's favorite part of the food drive happens on Wednesday, when first period classes come together to sort the food they have brought in. 
"[My favorite part is] definitely the organization, and stacking towers of food," said Swanson. 
Once the food is taken to the cafeteria on Wednesday, people need to sort it on Thursday, while also sorting the shipments of perishable food that arrive that day. These people are the ones who have received the coveted "Golden Tickets," allowing them to skip class on Thursday so they can sort food. 
Senior Henry Kurilo is one of the students who has received a Golden Ticket. 
"I'm a sacristan, so I just got the golden ticket and I go out there and sort food and deliver it with the other sacristans," said Kurilo. "For me, it's a way to connect with the community. It's important because a lot of people experience hunger during the holiday season, and I don't want them to have to experience food insecurity." 
Kurilo described how he will contribute to the food drive with his Golden Ticket. 
"I like sorting food because they play Christmas music and everybody's having a good time," said Kurilo. 
Although this is freshman Zach Contreras' first food drive, he has found many ways to get involved. 
"I brought in food, I brought in some money, I am going to drive around with my mother," Contreras said. 
Contreras, though he can't drive, is still eager to help deliver food boxes. Additionally, he feels inspired by upperclassmen to get involved. 
"I think upperclassmen sort of pumped us up, when they visited freshmen classes, I think that has something to do with it. It's a good community," Contreras said. 
When asked about his favorite part of the food drive so far, he had to pick something that he's already experienced, as he hasn't yet experienced the whole food drive. 
"I really enjoyed canvassing. You're out with friends, some people are rude to you, you'll be like whatever, brush it off, and find a lot of nice people. That was really fun," said Contreras. 
Sophomore Emerson Strub also decided to get involved in many ways. She has a Golden Ticket, and joined one of the student-led committees. 
"I really like the food drive. I actually got a Golden Ticket, so I'm helping with that. I'm super excited to sort food," Strub said. "I also am in distribution and we basically just addressed letters to the families that are receiving food." 
Last year, Strub's favorite part of the food drive was going canvassing, however, she didn't get the chance to do that this year.
"I feel like my favorite part this year is going to be sorting. I'm super excited and Mrs. DeKlotz told me a lot of good things about it," Strub said. "You should do it too." 
About the Writer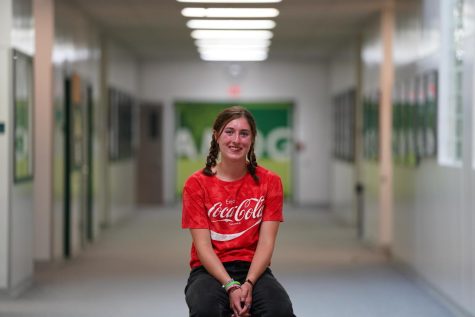 Natalie Jack, Staff Writer
A senior at Jesuit High School,
Natalie Jack
has always been interested in storytelling. Though she has never taken a Journalism class, she is very excited to learn all the aspects of journalism, including storytelling and interviewing. Natalie is interested in writing articles that tie into her life as a runner on both the track and cross country teams, as well as writing other opinion pieces. She believes that it is incredibly important to share well-informed opinions with the general population. In school, her favorite subjects include English and History. Outside of school, Natalie loves spending time drawing and working on her various art projects. Recently, she has begun a series of mini-paintings of landscapes around Oregon that showcase its natural beauty. She also enjoys spending time with her friends and family.