Jesuit Men's Basketball Drops Game to Sierra Canyon, James in LSI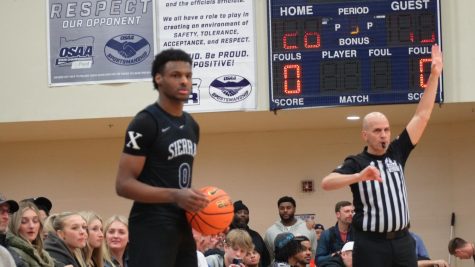 Jesuit Crusaders faced Sierra Canyon and Bronny James in Annual Les Schwab Invitational.
At 7:30 pm on Dec 27th, the Jesuit Crusaders entered an electric atmosphere inside the Liberty High School Gym. The story of the game however, was their opponent– Sierra Canyon and their up and coming celebrity player Bronny James (#0), son of NBA legend Lebron James.
The Crusaders came out of the locker room early and were greeted by a packed house of spectators from all parts of the Portland Metro area, presumably to see number zero himself . However Jesuit remained unphased and ran through warm ups laser focused as they would for any other opponent.
Sierra Canyon entered the court with a level of moxie, as their whole team gathered underneath Jesuit's hoop preparing for Bronny to make his flashy entrance, sprinting on to the court and dunking before his team began warm ups. With the crowd buzzing, Jesuit's unflappable Gene Potter met with Sierra Canyon's respective coaches and captains.
At the tip of Jesuit appeared composed and competitive, managing to stay even with the California powerhouse. Jesuit's Payton Roth managed an impressive block in the first quarter, however a few missed opportunities and turnovers by Jesuit allowed Sierra Canyon to lurch out to an early lead.
At the end of the first quarter, Jesuit trailed 9 to 21.
In the second quarter Sierra Canyon expanded their lead with several impressive three point shots by Bronny James. He would go on to shoot 6 for 7 from outside the arc. A disheartened but not defeated Jesuit headed to the locker rooms trailing 26 to 45 at the half.
Sierra Canyon's undeniable physical talent had dominated their offensive game thus far. However, Jesuit had also shown a great deal of hustle, being able to fight to keep the game reasonably competitive.
In the 3rd quarter, Bronny's Freshman brother Bryce James tapped in and quickly established himself as a big presence on the court. He towered above his older brother at 6'6" and managed to score 4 points in his short 7 minute stint in the game.
By the end of the quarter Sierra Canyon continued to lead, 73 to 41.
In the final quarter of play, Jesuit made somewhat of a comeback. A combination of sound defense and three point shots allowed them to out score their opponents 20-14. Time expired with Sierra Canyon prevailing victorious 87 to 61.
Top scorers Nico Rafolovich and Deshawn Gaston combined for 25 points. Bronny James led the stat sheet for Sierra Canyon scoring 22 points and shooting 80% for the game.
Jesuit recovered from this first round loss well though, managing to win the rest of their games in the losing bracket and clutching the title of consolation champion.
Sierra Canyon went on to defeat Jesuit's crosstown rivals, Central Catholic, the following day 87 to 48. However the nationally sensational team suffered an upset loss to local high school West Linn in the 3rd round.
West Linn then went on to shock fans as they knocked off the top ranked team in the nation, Duncanville, in the championship game 62 to 50. West Linn is now ranked 16th in the country according to ESPN and will face the Crusaders at home this Friday @6:30 PM.
About the Contributor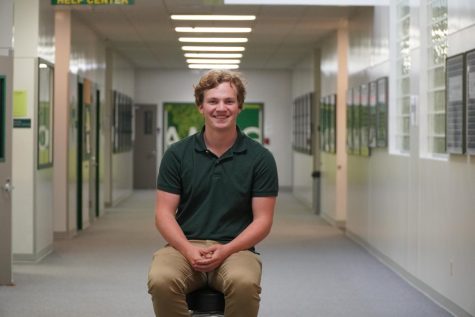 Clark Vowels, Executive Director, JCTV
Clark Vowels
is a Senior at Jesuit High School and
reports for the Jesuit Chronicle. He
has been pursuing videography and filmmaking for 6 years. When he was in 6th grade he took a
media studies course where he learned the fundamentals of videography and video editing. This
sparked a passion for video and he has continued to build his skills by becoming proficient in a
plethora of film and photo editing software. Recently, he has taken on the role of Executive
Director of JCTV, where he helps produce varsity sports broadcasts for Jesuit. Outside of school,
you will usually find Clark camping, mountain biking, skiing, and surfing in the beautiful pacific
northwest. This year he is particularly interested in broadening Jesuit Media's video journalism,
offering more ways to access stories from our team of writers. Clark also has played Football for
Jesuit through his Junior year, played guitar in the Jazz band for all 4 years of high school, and
continues to participate in Tech Theatre for every drama production. Clark hopes to build a solid
resume of videos to help him pursue his dream career of becoming a videographer for Red Bull
marketing.