2023 Women's Swim Preview
As the winter sports season comes into full swing, the Jesuit women's swim team has begun. Unlike many team sports, swimming is based on individual time and team-accumulated points.
Historically, the Jesuit women's swim team has been the team to beat. The Crusaders, led by senior captains Sara Hsu and Alaina Pitton started off strong by beating Beaverton in their first meet of the year. The men's captains are seniors Diego Nosack and Jack Alleman.
To continue team chemistry for the rest of the season, the squad has participated in some team bonding.
"Before break, we had a movie-watching and white elephant gift exchange, which was awesome!" Hsu explained.
Looking forward to this season, the group's main goal is to win state as well as ensure that the community stays close-knit and supportive of one another. Their biggest competition this year looks to be Sunset or Lake Oswego. Although, the Sader team is looking strong so far this year.
"The overall dynamic is good and we all come together," Hsu mentioned.
Some key players are seniors Sara Hsu and Alaina Pitton in the 100 breaststroke, senior Olivia Walton in the 100 backstroke, adaptable junior Sydney Wilson and junior Sasha Atencio in the 50 freestyle.
Jesuit's second meet of the year was against Aloha last Thursday at 3 pm. Hsu explained her thoughts on the different circumstances of this meet.
"It's going to be a little tricky because we have a lot of club swimmers gone," Hsu said. "So the rest of us have to step it up."
With few club swimmers attending, the Crusaders were to rely on others to rise to the occasion. Some freshmen who had amazing showings were Stela Sufuentes, Lisette Soto and Aya Brigham.
About the Contributor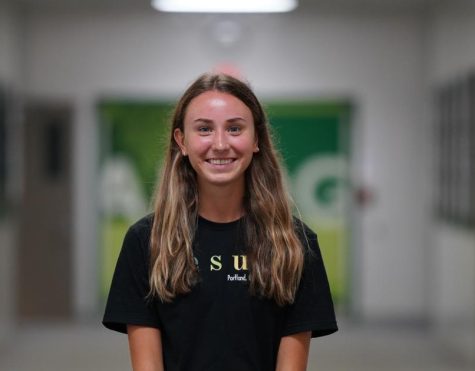 Aoife Gish, Staff Writer
Senior Jesuit High School student Aoife Gish is filled with curiosity, excitement and care for others in her community. Aoife is on the Jesuit women's soccer team and participates in track & field at Jesuit. She also is in her second year in student government. Apart from her involvement at Jesuit, Aoife is passionate about journalism. She enjoys editing videos, writing articles and is curious by nature, making her an enthusiastic interviewer. Aoife attended a selective writing workshop in seventh grade at Portland State University where she learned about varying writing techniques to improve her work. Being around sports her whole life, Aoife is intrigued to delve into the Jesuit sports scene as well as hearing from the Student Body surrounding current events at Jesuit. Aoife hopes to provide meaningful content so that the Jesuit community can ignite curiosity surrounding their school and find security knowing that Jesuit News is real news.