REVIEW: Big's Chicken
Winter Break is the time for trying new restaurants so when I heard about a place with a creative menu, an individual style, and a distinctive atmosphere, I had to check it out. 
Big's Chicken is a fried chicken spot with 2 locations, one in Portland, and one right up the street from Jesuit in Beaverton.
All over the city, restaurants  attempt their own rendition of fried chicken, a classic comfort food. Big's creative approach to the Alabama-style fried chicken, as well as exceptional complimentary side dishes, designates it the position  of my new favorite places.
The kitchen is run by Chef Ben Bettinger, who is also the executive chef of Laurelhurst Market, a steakhouse and butcher shop on Burnside. Bettinger attended culinary school in Portland, which allowed him to train under legendary Portland restaurateur, Vitaly Paley. Since then, Bettinger has taken on multiple different executive chef roles, as well as appearances on the Food Network, until today, where he now  owns Big's Chicken in partnership with the company, Your Neighborhood Restaurant Group. 
With such a resume, the assumption that Big's Chicken is an overdone rendition of a classic dish would be wrong. The menu is an unpretentious assortment of dishes that take traditional and simple foods and elevate them with technique. According to Big's website, "[the] chicken is marinated in fresno pepper sauce, smoked over fruit wood, then basted with our signature white gold bbq sauce," a technique that allows for  a more flavorful, juicy chicken and an  interpretation that causes it to  stand out from all the other fried chicken spots. 
I have been to many fried chicken restaurants  all over the country. From Oregon, Washington, and California to Tennessee, Alabama, and Virginia, I continue to explore the full range of interpretations of this classic dish. Therefore, I feel very qualified to give my opinion on the dish.  
Big's fried chicken sandwich was solid with an excellent bun which held the sandwich together. It came with a simple, refreshing coleslaw that wasn't too heavy, and pickles which added some vinegar flavor, but not an overpowering amount. The chicken was flavorful, and was a good portion to balance with the other elements of the sandwich. My only  issue was  that I felt more efforts could be made to increase the crispiness of the breading. 
One of their most popular side dishes, the deep fried mac n' cheese is very good with a prevalent cheesy flavor and the deep fried shell serving as the typical breadcrumb topping. If this mac n' cheese was served traditionally, it would be delicious, so adding the deep fried twist creates some personality which I can appreciate. I found that pairing it  with the fresno sauce is excellent. 
Along with fried chicken, I would argue I have experienced a strong range of banana pudding. Big's banana pudding was  extremely solid,  with a prevalent but refreshing banana flavor that didn't  make the dessert too heavy, along with fresh bananas and good  texture from the wafers, which are typically a little soggy, I felt  this pudding to be a lot lighter than many of the others I have tried and I was very impressed. The other dessert they served was a buttermilk pie which, unlike the name suggests, is not straight buttermilk, but is still a bit of an acquired taste. That being said, I understand the appeal and can appreciate the flavors and the technique.
Finally, my favorite item of the whole menu: the griddled corn cakes. The cornmeal and creamed corn make a deliciously soft, light, airy cake that takes the flavor of an excellent cornbread, but removes the dense and crumbly aspect you typically find in such a side. Paired with the maple butter, these cakes are a must-order.
Overall, I would say that Big's chicken is a good find. Fried chicken is extremely popular, and people are always looking for new renditions and styles to be brought out. Big's Chicken has the variety, the flavors, and the atmosphere to hold its own with any fried chicken or southern style restaurants in Portland, and for that, I will be coming back soon.
About the Writer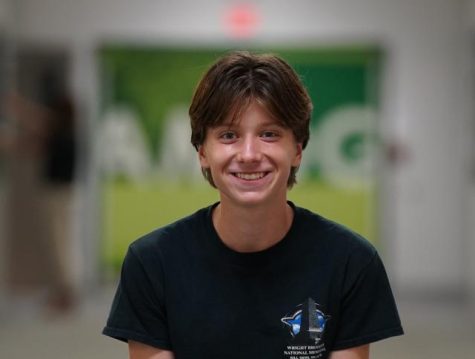 Gus Clevenger, Staff Writer
The power of storytelling is used to inspire and make people think more deeply and thoughtfully
about what was presented to them. To Gus Clevenger, a senior at Jesuit high school,
storytelling is at the forefront of his life, through seeking out new adventures and finding creative
ways to describe the world around him. As a young kid, Gus was surrounded with art and
writing and never saw himself doing much of anything else. Through listening to his dad make
up crazy stories about made up characters, to walking around OHSU and sitting through
interviews of dental students with his mom, storytelling was always there. This will be Gus's
second year as an editor and writer for the Jesuit Chronicle. In his first year as a Journalism
Student, he learned the fundamentals of Indesign as well as explored topics ranging from the
Jesuit administrative policies to food writing. Gus enjoys writing opinions , sharing different
perspectives, and connecting people through stories. He hopes to continue discovering what he
loves to write about as well as continue to put passion into his work to connect the Jesuit
community through stories and discussion. In his free time, Gus enjoys running, cooking,
drawing, going on long walks, and being with family.