Service Industry Jobs Provide Financial and Social Education for Students
From a middle school aftercare assistant to a MOD pizza staff member, the diverse types of jobs Jesuit students have during the school year and summer reflect how teenagers are taking advantage of post-pandemic market job openings. 
In 2022, the number of 16-19-year-old workers averaged 36.6% in the labor force participation rate. That is an increase of more than 380,000 workers from 2019.
Senior Maddie Backeberg works as a Nordstrom sales associate in the Topshop and B.P. departments. 
Backeberg started at Nordstrom last summer, but she decided to stop working during the school year due to worries it would interfere with her schedule. In October, however, she realized she had enough time to keep her job and stay on top of her studies.
"I picked it back up again," Backeberg said. "I really like earning my own money, because I feel like that allows for a lot more freedom. It feels better than having to come to my parents all the time whenever I want something, and feeling pride that I worked hard for the money I earn."
Since Backeberg is at school during the day, a typical shift during the week for her is 4 p.m. until Nordstrom closes, which could be as early as 9 p.m. or as late as 10:30 p.m. She currently works 2-3 nights a week.
"On a school night, getting home so late can be really hard," Backeberg said. "I can get super tired, but I just try to maximize the time I have through flex and my prep period to get all my work done during the school day."
Although having a job during the school year can come with time management challenges, Backeberg enjoys using Nordstrom as an outlet for connection.
"I'm a really social person, and I really love clothes, so my job combines both and is genuinely fun for me," Backeberg said. "I like to help people find what clothes are right for them and help them feel confident."
For senior Abby Rosson, interacting with others is also the highlight of her shifts at her middle school alma mater, St. Pius X. Rosson works at St. Pius' aftercare during the school year, and "Camp Panther" during the summer. 
"It's nice to have an escape from the busy life of a high schooler and be distracted with board games, coloring, arts and crafts, and spending time with little kids," Rosson said.
Rosson noticed that after she got her driver's license, she was spending more money on gas and other expenses. She then began her job search, and was pleased to find a job at a familiar place.
"My friend worked here, and my mom also works at St. Pius as a 3rd grade assistant," Rosson said.
Rosson works two days a week from 3 p.m. to 6 p.m. During the summer, she works 3-4 days a week for 5 hours a day.
"I am very grateful that my boss is extremely understanding of my school workload and personal life," Rosson said. "I am very fortunate to work with amazing kids and co-workers, and I always leave work in a better mood than I start it with."
After being hired at MOD Pizza this September, junior Sabatino Stacchi realized all the responsibilities that come with working in the service industry.
"It's a lot harder than people think," Stacchi said. "I've gotten some more compassion and empathy towards restaurant workers and other service workers, because I now know what it's like to be in their shoes."
At MOD, Stacchi enjoys attentively serving customers.
"I like being in a service job because I can interact with the public a lot and be social," Stacchi said. "It's also really cool when my friends come in to visit or I see customers from Jesuit."
Senior Jack Smith is also in the food industry. Instead of a restaurant, however, he works at a food cart in Tigard. 
"My job essentially includes cooking all of the food, taking orders, and other duties like cleaning," Smith said.
Smith appreciates the lesson he's learned from maintaining this job for two years.
"Because of work, sometimes I have to miss hanging out with friends," Smith said. "However, working while going to school has taught me how to maintain a good work ethic and how to balance my social life with work and school."
While sophomore Clara O'Sullivan does not currently have a job, she is looking forward to applying for positions this summer.
"I feel like it'd be nice to have a new environment to give my energy to," O'Sullivan said. "I feel like having a job would push me out of my comfort zone and allow me to learn new responsibilities."
Choosing to have a job during the school year adds another pressure to an already busy high school schedule. However, these students' stories reveal how self-earned money, connection with customers, and productivity is gained through a service job.
About the Contributor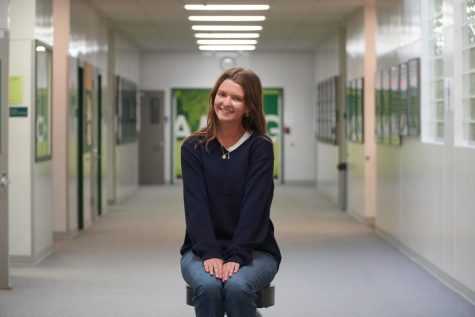 Lauren Herrick, Editor in Chief
Senior Lauren Herrick is a returning student from Journalism and a member of the editorial
board this year. Lauren enjoys producing feature and opinion pieces, collaborating with the team
to lead the development of the online and print paper, and enhancing her passion for the craft of
journalism through incorporating technology such as podcasts— check out the Sader Scoop, 
which she co-founded and edits. When she's not writing, you can find her reading the
Wall
Street Journal
or listening to NYT's The Daily. Outside
of journalism, Lauren enjoys practicing
yoga, part-time baristing at a local cafe, spending time exploring Oregon with her friends, and
listening to a lot of country music. She's excited to help lead the Jesuit media program and
explore topics more in depth during her second year of the program.