New Class Familiar Face: Mr. Peevyhouse Becomes New English Teacher
Among many changes, the second semester brings with it the beginning of new English and theology classes for seniors.  For three groups of seniors, their English selective–Utopias and Dystopias–is not only a new curriculum, but they will have a new teacher, Mr. Peevyhouse. 
Mr. Peevyhouse is a former student teacher and a baseball coach at Jesuit, but now he will be teaching in his own classroom with the departure of long-time English teacher Mr. Sprehe. 
Prior to this new opportunity, Mr. Peevyhouse was a student teaching under Mr. Yanosy before completing his certificate in December. 
"The process was pretty quick due to the circumstances and how the spot opened up. I was lucky that my student teaching and degree finished in December," Peevyhouse said. 
Mr. Peevyhouse did not always set out  to be an English teacher. Before the pandemic, he worked in sports marketing. Mr. Peevyhouse worked for Concordia University,  in charge of posting content on social media, as well as keeping stats for the teams. 
Eventually he found a calling to teach English. 
"I love reading and English itself, writing and poetry, all that stuff kind of helped me get through a lot of interesting times in my life," said Peevyhouse. 
Whenever one teacher leaves, and another takes over, there are a lot of questions about the class's curriculum. Will the teacher change anything? Mr. Peevhouse shared his goals for the curriculum. 
"I'm going to be pulling ideas from the other teachers here, especially Mr. Case and Mr. Yanosy.  They are two amazing teachers and have already offered me support, but it's still going to be the same class," Peevyhouse said. 
Beyond the curriculum, Mr. Peevyhouse has many goals for his class. 
"I love helping kids find their voice and their passion and how to properly convey that voice and passion in their writings and so that's really the main reason behind English."
James Booth is a senior at Jesuit, who had Mr. Yanosy was his English teacher last semester along with Mr. Peevyhouse.
"Mr. Peevyhouse really helped me last semester with English. His teaching style helped me grow as a writer and he gave me a lot of confidence in myself. He will do great teaching on his own" Booth said.
About the Writer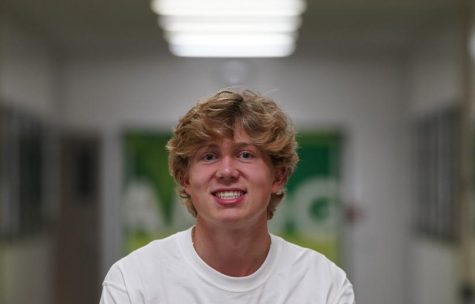 Charlie Riddle, Staff Writer
Charlie Riddle is a senior at Jesuit and this is his first second year in media. Charlie's favorite thing to do in the media is make podcasts. Charlie has two sisters. One of his sisters, Abby, graduated from Jesuit in 2020 and goes to TCU and his other sister Kate is a sophomore at Jesuit. Charlie also has two dogs named Lulu and Archie. Charlie is involved in the lacrosse program at Jesuit. Charlie's favorite thing he wants to write about this year is sports and movies. His favorite sports teams are the Oregon Ducks, Trail Blazers and the Chargers. Some of Charlie's favorite hobbies are traveling, playing sports, and hanging with friends. Charlie's favorite sport is golf. The coolest place he has been to is Mexico. When Charlie is not in school and has some free time he also likes to play golf and hang out with his friends. Charlie is not the best golfer but he still enjoys playing. Charlie also enjoys watching movies. Charlie hopes to write a couple articles this year about some of his favorite movies.