Fourth Annual Day of Giving: Same Goal, Some Changes
On February 16, Jesuit's fourth annual Day of Giving fundraiser will occur. This year's Day of Giving strives to raise alumni's awareness of how their financial gifts support students' diverse talents. 
The Day of Giving hopes to surpass last year's success of $465,000+ through 3 featured funds and opportunities to support financial aid efforts, all with the intention of furthering Jesuit's programs and in turn, students' growth.
"We want to provide as many opportunities as we can for alums and others in the community to give back to the school they love," Director of Development Mr. Kyle Carter ('02) said.
In past years, students were invited to financially donate towards the Day of Giving and compete against different grades to win the Class Cup, which was awarded to the grade that raised the most money. This year, students' participation in the Day of Giving will look a little different.
"Instead of raising money, classes will be raising "points" to help them earn the coveted class cup," Carter said. "Points will be raised through different games, a hallway decorating contest, and other activities."
These various activities are set to occur over the week before the Day of Giving, and will be organized by Student Government. 
One major way for students to get involved in the Day of Giving efforts is to participate in or watch the first Jesuit's Got Talent show, which will be held during Flex period on the Day of Giving and live-streamed to alumni.
Senior Patrick Kelley and junior Landon Lagesen led the planning process of the talent show as part of their work in Student Government.
"It's to raise awareness for the alumni in order to get the Day of Giving message out there," Kelley said. "We're trying to get a lot of alumni involvement and student participation."
Lageson highlighted the various acts that are scheduled to perform.
"It's giving a platform to so many diverse talents," Lageson said. "There's even a magic show and a student band."
Through a new vision for student and alumni involvement, this year's Day of Giving hopes to involve the whole community in supporting Jesuit's efforts to advance its academic and extracurricular programs. 
"The Day of Giving is a way to celebrate Jesuit as a whole and why we do what we do, and welcome the alums back to what their experience was like," Carter said. 
About the Writer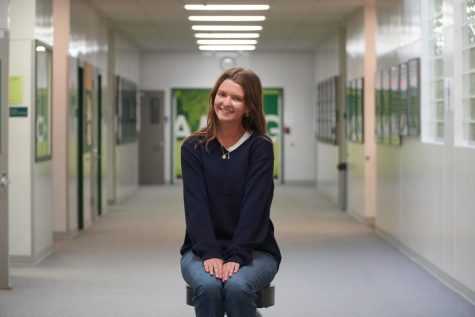 Lauren Herrick, Editor in Chief
Senior Lauren Herrick is a returning student from Journalism and a member of the editorial
board this year. Lauren enjoys producing feature and opinion pieces, collaborating with the team
to lead the development of the online and print paper, and enhancing her passion for the craft of
journalism through incorporating technology such as podcasts— check out the Sader Scoop, 
which she co-founded and edits. When she's not writing, you can find her reading the
Wall
Street Journal
or listening to NYT's The Daily. Outside
of journalism, Lauren enjoys practicing
yoga, part-time baristing at a local cafe, spending time exploring Oregon with her friends, and
listening to a lot of country music. She's excited to help lead the Jesuit media program and
explore topics more in depth during her second year of the program.